Apple Code Signing Certificate at $199.99
Sign unlimited Apple Mac OS Apps such as iOS, Apple, iPhone, Xcode using Cheapest Apple Code Signing Cert.
Money Back
Guarantee
Lowest Price
Guarantee
Increase Software Downloads
Delivery Mode:
Existing HSM or External Physical Device
Secure Key Storage:
FIPS-compliant Hardware Device
Starting June 1, 2023, code signing certificate keys must be stored on a hardware security module or token that's certified as FIPS 140 Level 2, Common Criteria EAL 4+, or equivalent.
Apple Mac OSX Code Signing Certificate is a perfect security solution to safeguard the software code from unauthorized access on Apple devices, including iPhone, Mac, iPad, and Apple watch. It helps the iOS developers and publishers to digitally sign the solutions and align the application with the App Store policies. And aids in ensuring a smooth installation experience, eliminating all Unknown Publisher warnings and alerts.
Furthermore, Apple Code Signing Certificate adds value to your software or app, leading operating systems to accept it as legitimate and provide all necessary permissions to it. Moreover, it enhances user confidence and builds the brand image, which directly improves your productivity, revenue, and industry reputation.
Compare & Buy Code Signing Certificates
Features and Benefits of Apple Mac OS Code Signing
Secure All Apple Apps
Apple Code Signing Certificate enables you to digitally sign any application for MacBook, iPhone, iPad, and Apple watch and make their source code tamper-proof. It performs hashing and encryption on them with top-notch algorithms, ensuring data integrity and preventing unauthorized modifications and reverse engineering.
Eliminate Warnings
Once you code sign applications for Apple devices, you can guarantee a seamless download and installation experience for all end-users. CA-issued Apple Code Signing Certificate gets recognized as legit by the operating system, which automatically removes warnings and helps to boost user confidence.
Extends Software Validity
The timestamping functionality can help you retain software validity for a lifetime. It embeds the date and time details on the software when it was signed by the publisher, which tells devices that the software is authentic even after certificate expiration.
Intensify Brand Reputation
Apple always prefers secure applications to maintain its digital ecosystem and protect customers' data. And when you digitally sign your application, it allows you to list software on the App store, which labels it as secure to use, building confidence among users preferring apps from you.
Unbounded Signing
With a single Apple Code Signing certificate, you can tamper-proof unlimited applications and executable files. In addition, you can also timestamp unbounded apps and make them valid for an extended period.
Affordable & Seamless Usage
By investing a minimal amount in an Apple certificate, you can become a verified iOS app publisher. And also leverage the benefit of importing certificate on any Apple device for signing purposes in the required format and without compatibility issues with macOS and iOS.
Why to Code Sign iOS Apps and Mac OS X Software?
Now, every macOS version comes with the Gatekeeper mechanism, which helps users to identify applications from unauthorized publishers. And whenever it detects a non-signed application, it displays a warning to the end user. Due to such warnings, most of the users don't install the application and prefer a secure alternative for it.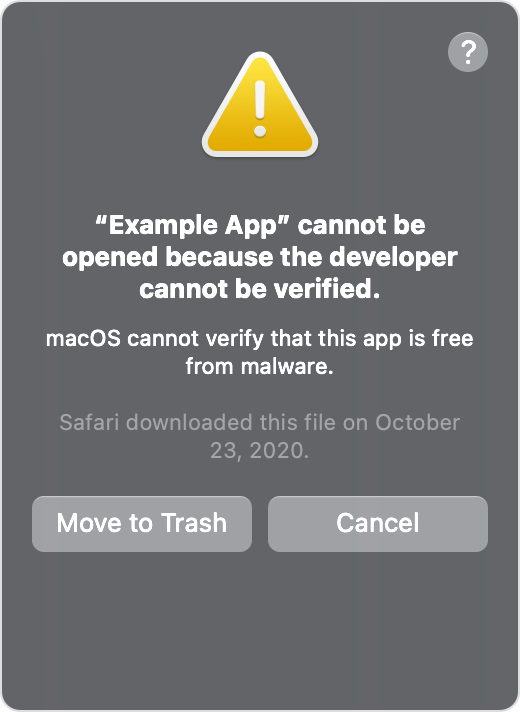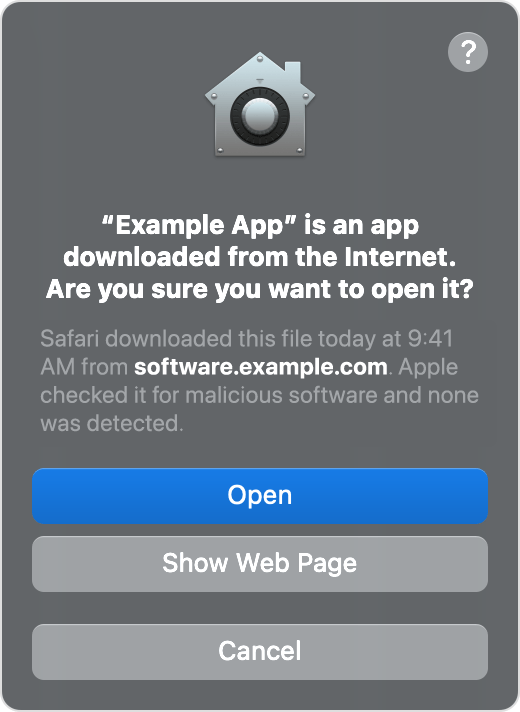 You can prevent your customers from encountering such Gatekeeper warnings by using an Apple Code Signing Certificate. It will help you get verified as a publisher and digitally sign software for macOS. As a result, all your users will seamlessly install the application and will consider your software for secure process execution. Moreover, the system will also recognize you as a legit brand, leading to the understanding that your software has not been tampered with and is safe from malicious actors.
How to Install Apple Code Signing Certificate to your System?
To install a Code Signing Certificate on a macOS system, you can follow any of the below procedures:
Through the Keychain Access
Step 1: Open Keychain Access on your macOS system and choose the current login to access certificates.
Step 2: A disclosure arrow must be present on the left side. Click on the arrow to view the associated private key.
Step 3: Create a new Keychain and copy-paste all the certificates to it one by one.
Step 4: Now, copy the new Keychain and transfer it to your other macOS-based machine.
Step 5: Access the Keychain access on the second system to access the copied certificates.
Through XCode
Step 1: Open XCode and go to Preferences and then the Accounts option under it.
Step 2: Choose the relevant account and click on the gear icon. Then, click on Export Apple ID and save the file.
Step 3: Copy the saved file and transfer it to your second macOS computer system.
Step 4: Once it gets copied, open the XCode on your second system and follow the same procedure until clicking on the gear symbol. And after that select the option to import Apple ID-associated assets.
How to Find Code Signing Information from Your Apple Developer Account?
For security purposes, you need to submit the Code Signing Information to Mobile Publisher, as it helps to identify that software is coming from a legit authority.
Thus, you need to gather details, such as Code Signing ID, Code Signing Password, and Code Signing Certificate by logging into the Apple Developer Account.
Open the Keychain Access on a macOS device and generate a CSR (Certificate Signing Request).
Create your Developer ID and download the associated certificate through your Apple Developer Account.
Find the Developer ID certificate on the machine and save the Identification number.
Again, open the Keychain Access to export the code signing certificate and secure it with a password simultaneously.
Frequently Asked Questions
What is Apple Code Signing Certificate?
Apple Code Signing Certificate is a digital certificate, specifically for tamper-proofing the macOS and iOS-based applications. It gets issued by Certificate Authorities and allows software publishers to embed their digital signature. In addition, it solidifies the application's authenticity, aligning it with the Apple App store and operating system standards. Once you sign your application, end-users will start to trust your software and prefer it for performing relevant operations.
Why do you need Code Signing for MacOS?
You need Code Signing for macOS for the following reasons:
To show that your application is legit and coming from an authorized publisher.
To make applications tamper-proof and secure from malicious threats.
To prevent Gatekeeper warnings.
To build brand reputation and seamlessly distribute apps from the Apple App Store.
How to Check What Certificates are Installed?
To check the Apple Code Signing Certificates available on your device, you must open the terminal and run the below command:
$ security find-identity -p basic -v
It will provide the list of all certificates installed on your system. You can identify the software using the Developer ID in the form of alpha-numeric code.
Why Choose SignMyCode for Code Signing Solutions?
24/7 Technical and
Sales Support Services
FREE Guides, Tutorials,
and Instruction Manuals
Cheapest Price
in the Market
Smooth Renewal
Process Support
100%
Quality Assurance
30 Days
Money Back Period
Keep Updated about Changes
in Policies & Certificate
Solely Focused Towards
Code Signing Solution
Joakim L.
I purchased a code signing certificate from SignMyCode. Then realized that I needed an EV certificate. Customer support was extremely quick and service-minded, and I could easily upgrade.
Akos S.
I purchased a code signing certificate as a beginner and have got helpful customer support to go through the necessary process and use it for my product.
John M.
My best experience ever purchasing a code signing certificate. I love the certificate; the token is delivered to a central portal where I can find it anytime.
Live Chat
Talk to our 24/7 code signing experts for issuance, validation, and installation help.
24/7 Ticketing Support
Raise your support and sale ticket, we will answer immediately.
Code Signing Tutorials
Why SignMyCode?
Globally Recognized Certificate Authority (CA)
Quick Validation and Issuance by Pro Code Signing Experts
Technical Troubleshooting in Real-Time
24 x 7 Customer Support via Live Chat & Email
---