Windows Code Signing Certificate at $199.99
Cost-Effective Windows Code Signing Certificate to Digitally Sign Your Software/Applications That Run on Windows Operating System Without Security Warnings
Money Back
Guarantee
Lowest Price
Guarantee
Increase Software Downloads
Delivery Mode:
Existing HSM or External Physical Device
Secure Key Storage:
FIPS-compliant Hardware Device
Starting June 1, 2023, code signing certificate keys must be stored on a hardware security module or token that's certified as FIPS 140 Level 2, Common Criteria EAL 4+, or equivalent.
Windows Operating system takes software and applications very seriously. A slight suspicion can raise a browser and Windows SmartScreen "Unknown Publisher Warning", and such security warning messages are often seen when someone tries installing any unsigned software. And, if you're a software developer or software development company, you may know how unsigned software can start showing security warning messages if it's not digitally signed using Windows Code Signing Certificate offered by respected CAs.
Furthermore, we offer Cheap Windows Code Signing Certificate of globally known CAs like Certera, Sectigo, DigiCert and Comodo that's recognized & trusted by the Windows Operating System while reducing security warnings that help bolster user trust and confidence.
Compare & Buy Code Signing Certificates
Features and Benefits of Windows Code Signing Certificate
Below are some features and benefits of the Digital Software Signing Certificate:
Verified Publisher's Identity
Prove software code integrity with digital signature and improve your brand identity and become trusted software publisher with authentic code signing certificates.
Removes Unknown Publisher Warning
Once your Windows Software Signing Certificate gets issued, and you sign your Windows software or an application, it'll embed a digital signature onto the signed app or software. The Windows Operating system will recognize that signature that assures software is from a trusted software developer while removing suspicious unknown publisher warning message that makes you appear malicious.
Unlimited Signing & Timestamping
Based on the validity period of your Windows Digital Signing Certificate, you'll be able to sign and timestamp an unlimited number of Windows software. So, for example, if you got issued a Window Code Signing Certificate that's validity is 2 – years, then you'll be able to sign and timestamp as many windows apps and software you want for two years.
Assures Software Developer Is Genuine
Before CA like DigiCert, Sectigo, Certera or Comodo issues your Windows Code Signing Certificate, they take you through the vetting process depending upon which type of Software Signing Certificate you've applied for. For example, if your Windows Code Signing Certificate is EV (Extended Validation), vetting will be rigorous, or else it'll be light if it's the Standard version. This vetting process from CA is to make sure that the software publisher or developer is genuine and a legally registered entity.
What is Windows Defender SmartScreen?
Windows Defender SmartScreen is a filtering feature to verifies the legitimacy of files, codes, and websites to prevent malicious activities on your system. You can find it in all windows platforms such as Windows 8.1, Windows 10, Windows 11, and Microsoft Edge browser.
The main goal of MS SmartScreen Filter in Windows Operating System is to help users make appropriate decisions while download and installing any unauthorized publisher software from browser. Before installing and accessing to unauthorized software, it shows a security warning to notify and decide you whether to install it or not. The below image is how Windows Defender SmartScreen Filter Warning looks like!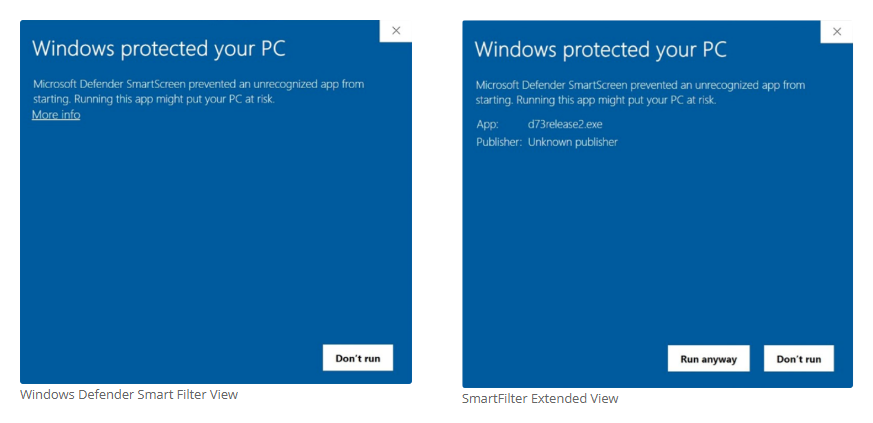 Why you Need Windows EV Code Signing Certificate?
EV code signing is essential for signing Windows drivers, mainly Windows 10/11. These operating systems impose strict requirements to enhance system security. Here's why you need EV code signing for Windows drivers: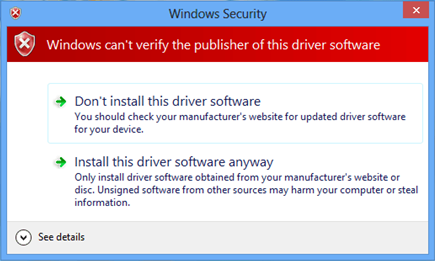 Kernel Mode Driver Loading:

Windows 10/11 mandates that a trusted source must sign all new kernel mode drivers for them to load. Without an EV Code Signing Certificate, your drivers won't pass this requirement, preventing them from functioning on these OS versions.

64-Bit Windows Requirement:

All drivers must be signed on 64-bit versions of Windows. It includes not only kernel mode drivers but also user mode drivers. For public release, your driver needs to be signed by a trusted root authority.

Windows Version Compatibility:

Attestation signing is specific to Windows 10 Desktop and later versions. It won't work on older Windows versions like Windows Server 2016, Windows 8, or Windows 7.

User and Kernel Mode Support:

While user-mode drivers for Windows 10 don't require Microsoft's signature, the same attestation process can be applied to both user and kernel mode drivers. However, older Windows versions may need HLK/HCK test logs for certification.

Attestation Signing:

To submit your driver to the Partner Center (Hardware Dev Center Dashboard) for attestation signing, you must use an extended validation (EV) Certificate. This ensures strong authentication and adds an extra layer of security.

Enhancing Windows Security:

These requirements are in place to enhance Windows security. They minimize the risk of signing keys being lost or stolen and ensure that driver publishers are authenticated. It helps protect the integrity of the Windows ecosystem.
Supported by All Microsoft Platforms
Windows Code Signing Certs is suitable for all including Windows 8 & 10, Windows Phone, Microsoft Windows, Azure, Xbox 360, Microsoft Authenticode, Adobe, etc.
Frequently Asked Questions
Why Do You Need a Windows Code Signing?
It'll help remove unknown publisher warnings that make users scare away and damage your reputation as a software publisher/developer. It's recommended that you sign your Windows apps and software with a Windows Software Signing Certificate provided by respected CAs like Comodo, Certera, Sectigo or DigiCert to make yourself recognized as a trusted software developer in the eyes of the Windows Operating System.
What is the Importance of Signed Code for Windows Developers?
To distribute software, drivers, and applications across the Windows environment, it's mandatory to digitally sign the executable files. Otherwise, Windows OS will show warnings for your software, which can reduce the download rate and even attract attackers. Therefore, Microsoft Developers must use a Windows Code Signing Certificate to tamper-proof the executable files and boost user confidence in them.
How Windows Code Signing Works?
Windows Code Signing Certificate takes the original source code and utilizes the hashing and encryption mechanism for its conversion. Firstly, the code gets converted to a hash digest and then the digest gets encrypted using the associated private key. Lastly, the certificate embeds your digital signature and provides you with digitally signed Windows software.
Why Choose SignMyCode for Code Signing Solutions?
24/7 Technical and
Sales Support Services
FREE Guides, Tutorials,
and Instruction Manuals
Cheapest Price
in the Market
Smooth Renewal
Process Support
100%
Quality Assurance
30 Days
Money Back Period
Keep Updated about Changes
in Policies & Certificate
Solely Focused Towards
Code Signing Solution
Joakim L.
I purchased a code signing certificate from SignMyCode. Then realized that I needed an EV certificate. Customer support was extremely quick and service-minded, and I could easily upgrade.
Akos S.
I purchased a code signing certificate as a beginner and have got helpful customer support to go through the necessary process and use it for my product.
John M.
My best experience ever purchasing a code signing certificate. I love the certificate; the token is delivered to a central portal where I can find it anytime.
Live Chat
Talk to our 24/7 code signing experts for issuance, validation, and installation help.
24/7 Ticketing Support
Raise your support and sale ticket, we will answer immediately.
Code Signing Tutorials
Why SignMyCode?
Globally Recognized Certificate Authority (CA)
Quick Validation and Issuance by Pro Code Signing Experts
Technical Troubleshooting in Real-Time
24 x 7 Customer Support via Live Chat & Email
---