Microsoft Authenticode Code Signing Certificates at $199.99
Remove Unknown Publisher Warning by Signing Your Executables Using Microsoft Authenticode Code Signing Certificates
Money Back
Guarantee
Lowest Price
Guarantee
Increase Software Downloads
Delivery Mode:
Existing HSM or External Physical Device
Secure Key Storage:
FIPS-compliant Hardware Device
Starting June 1, 2023, code signing certificate keys must be stored on a hardware security module or token that's certified as FIPS 140 Level 2, Common Criteria EAL 4+, or equivalent.
Software development has seen massive growth, and due to that, software development using Microsoft Authenticode isn't new. From small to big companies, all are using Microsoft Authenticode, and it's becoming one of the basic needs for software developers these days. Nonetheless, the Microsoft Authenticode Code Signing certificate is the digital certificate developers usually use to sign their scripts, executables, and code.
Furthermore, when software developers sign their executables, scripts, and code using Microsoft Authenticode Code Signing Certificate, it vouches for them to authenticate software authors. Thus, it helps prevent unknown publisher warnings and gives proof to the user that software is tampered free since its signing.
Compare & Buy Code Signing Certificates
Features and Benefits of Authenticode Signing Certificate
Here below are some features and benefits of the Microsoft Authenticode Digital Signing Certificate:
No More Pesky Warnings
Warning messages are the biggest turnoff to users at the time of download or installation. Let's put it this way, will you download or install any software if it starts showing warning messages? No, you'll avoid it, and so does the users. Likewise, to prevent such warning messages during installation or download, it's recommended you digitally sign your software/apps using Microsoft Authenticode Code Signing Certificate.
Bolster Trust & Confidence
Trust is very critical for the success of the software. If users don't trust your software and have doubt that it contains something malicious, then it's for sure your software is about to fail. Henceforth, by signing your apps and software using Microsoft Authenticode Code Signing Certificate, users get prevention from warning messages like an unknown publisher, which will help bolster their trust and confidence to use your software.
Validates Identity
To get Microsoft Authenticode Code Signing Certificate issued, you're required to go through the vetting process. And, during this process, CAs like DigiCert or Sectigo ask various questions and documents that help prove that your organization is legit and registered before you get Code Signing Certificate.
Unlimited Signing & Timestamping
Once your Software Signing Certificate gets issued, you'll be able to sign and timestamp an unlimited number of software and applications without any restrictions till the validity period is not over. So, for instance, if you've got Microsoft Authenticode Code Signing Certificate issued for three years, then till three years, you will be able to digitally sign and timestamp as many software and apps you want.
Why to Code Sign Microsoft Software, App or Executables?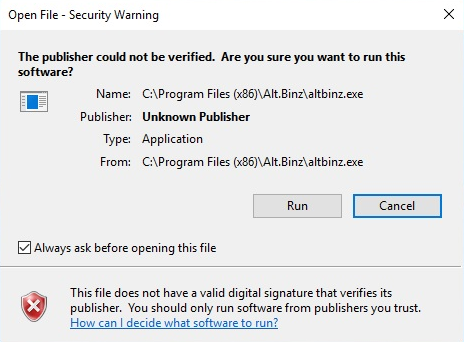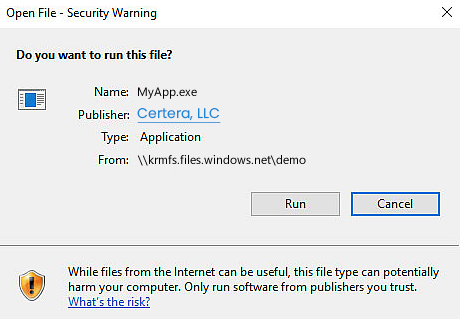 Developing software using Microsoft Authenticode is safe. But software development has evolved on a higher level these days. From small companies to individual software developers, all use Microsoft Authenticode. Likewise, operating systems, browsers, and third-party software publishing websites are aware of it. Therefore, if you don't sign your software/app developed using Microsoft Authenticode technology, it'll show warning messages to users and negatively impact your brand. To avoid warning messages like an unknown publisher and to maintain your reputation, it's important to sign it digitally before publishing it.
Frequently Asked Questions
What is Authenticode Code Signing?
Microsoft Authenticode signing acts as a digital notary, assuring users of the code's origin and its unaltered state. It elevates trust and security with Authenticode signing.
How Authenticode Signing Works?
Microsoft Authenticode signing is the digital handshake that transpires between software developers and users, establishing trust, verifying identity, and guaranteeing code integrity. It empowers users to download and run code from the internet confidently, knowing that a fortified layer of security safeguards their digital interactions.
Why Choose SignMyCode for Code Signing Solutions?
24/7 Technical and
Sales Support Services
FREE Guides, Tutorials,
and Instruction Manuals
Cheapest Price
in the Market
Smooth Renewal
Process Support
100%
Quality Assurance
Keep Updated about Changes
in Policies & Certificate
Solely Focused Towards
Code Signing Solution
Joakim L.
I purchased a code signing certificate from SignMyCode. Then realized that I needed an EV certificate. Customer support was extremely quick and service-minded, and I could easily upgrade.
Akos S.
I purchased a code signing certificate as a beginner and have got helpful customer support to go through the necessary process and use it for my product.
John M.
My best experience ever purchasing a code signing certificate. I love the certificate; the token is delivered to a central portal where I can find it anytime.
Live Chat
Talk to our 24/7 code signing experts for issuance, validation, and installation help.
24/7 Ticketing Support
Raise your support and sale ticket, we will answer immediately.
Code Signing Tutorials