Visual Studio Code Signing Cert at $199.99
Sign Unlimited Software Packages, Web & Mobile Applications Using Visual Studio Code Signing Certificate
Money Back
Guarantee
Lowest Price
Guarantee
Increase Software Downloads
Delivery Mode:
Existing HSM or External Physical Device
Secure Key Storage:
FIPS-compliant Hardware Device
Starting June 1, 2023, code signing certificate keys must be stored on a hardware security module or token that's certified as FIPS 140 Level 2, Common Criteria EAL 4+, or equivalent.
Microsoft Visual Studio is a popular developing tool since 1997 while that's often used for writing codes and developing websites, applications, and software with excellent user interface. With increasing the popularity and demand of Visual Studio platform there are some software vulnerabilities and malwares are there to crack the code. Where, Visual Studio Security comes to secure the codes and programs from attackers.
Likewise, if you're developing software using Microsoft Visual Studio, then Visual Studio Code Signing Certificate is an excellent option to verify and authenticate your digital signature. So, users can be sure that your software is coming from a trusted source.
It reduces security warning messages and remove unknown publisher warnings. It helps bolster user trust and confidence and assures that your software hasn't been tampered with since its signing and it's in its original form. Maintain the integrity of software and apps with 32 and 64-bit encryption.
Compare & Buy Code Signing Certificates
Features & Benefits of Visual Studio Code Signing Certificate
Here are some of the features and benefits of the Visual Studio Digital Signing Certificate:
Unlimited Code Signing
Once the Visual Studio Code Signing Certificate gets issued to you, you'll be able to sign an unlimited number of Visual Studio apps and software until the validity period of your Visual Studio Software Signing Certificate doesn't expire. Likewise, validity is provided from anywhere between 1 – 3 years.
Third-Party Integration
The Visual Studio Software Signing Certificate offered by Certera, DigiCert, Sectigo and Comodo meets all the Microsoft and CA/Browser Forum's mandatory specifications. Therefore, it provides smooth experience and compatibility with all the third-party development tools Visual Studio software/app developer uses in their development process.
Timestamp and Keep Digital Signature Valid
Visual Studio Code Signing Certificate offers a unique feature to timestamp your digital signature. It means your digital signature will remain valid, and it won't cause any issue to your software users even after your Visual Studio Software signing certificate expires.
Validates You
Once you digitally sign your software/apps using the Visual Studio Code Signing certificate, the digital signature will validate your software users and third-party software publishing website. Ensure users that your software/app is coming from a trusted source and hasn't been tampered with since its code sign.
Why to Code Sign Visual Studio Applications?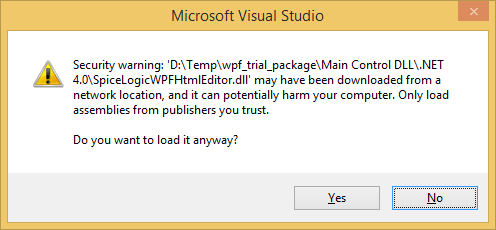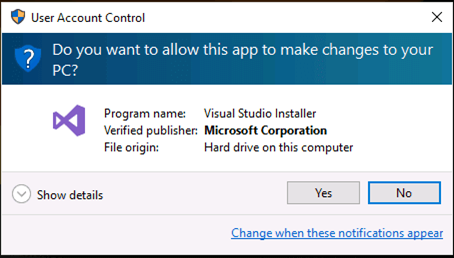 If your software/apps build using Visual Studio isn't digitally signed, it'll fail to get recognized by your end-user's system, and in return, it'll start showing security warning messages like an unknown publisher. Henceforth, the user may avoid installing your software if they aren't sure who the software's author is. And, to prevent unknown publisher warning messages, you'll require to digitally sign your executables.
Frequently Asked Questions
What is Visual Code Signing?
Visual Code Signing is the process of securing an executable file developed using Microsoft Visual Studio. It helps to utilize advanced hashing and encryption algorithms to retain code integrity and boost brand reputation. Additionally, it helps to bypass system security checks and showcase your authenticity to customers and end-users.
How to Digitally Sign Visual Studio Software or Apps?
Once the certificate gets issued, you can follow the below steps to sign your Visual Studio software/apps:
Go to Solution Explorer. Right-click the Project and select Properties.
Select the tab Signing.
Toggle the checkbox Sign, and then ClickOnce Manifests.
From Store, click on Select.
From the given list, select the option code signing certificate that you want to use.
Now, Specify the timestamp server and start signing your Visual Studio software and apps.
Why Choose SignMyCode for Code Signing Solutions?
24/7 Technical and
Sales Support Services
FREE Guides, Tutorials,
and Instruction Manuals
Cheapest Price
in the Market
Smooth Renewal
Process Support
100%
Quality Assurance
30 Days
Money Back Period
Keep Updated about Changes
in Policies & Certificate
Solely Focused Towards
Code Signing Solution
Joakim L.
I purchased a code signing certificate from SignMyCode. Then realized that I needed an EV certificate. Customer support was extremely quick and service-minded, and I could easily upgrade.
Akos S.
I purchased a code signing certificate as a beginner and have got helpful customer support to go through the necessary process and use it for my product.
John M.
My best experience ever purchasing a code signing certificate. I love the certificate; the token is delivered to a central portal where I can find it anytime.
Live Chat
Talk to our 24/7 code signing experts for issuance, validation, and installation help.
24/7 Ticketing Support
Raise your support and sale ticket, we will answer immediately.
Code Signing Tutorials
Why SignMyCode?
Globally Recognized Certificate Authority (CA)
Quick Validation and Issuance by Pro Code Signing Experts
Technical Troubleshooting in Real-Time
24 x 7 Customer Support via Live Chat & Email
---