OV Code Signing Vs. EV Code Signing Certificate – What's the Difference?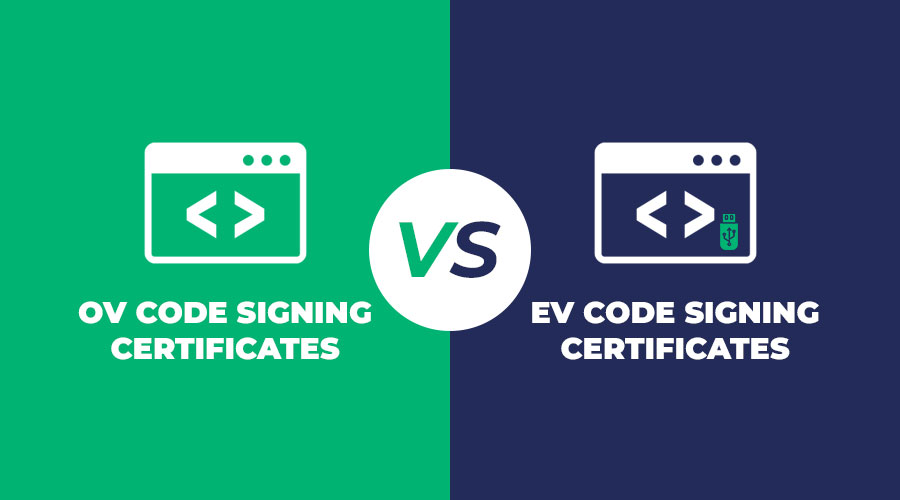 Daily, companies are developing new software. And before launching, assuring its integrity is the topmost priority. At such stage, organizations come into the discussion of OV vs EV Code Signing Certificate.
Code Signing Certificates are necessary for every company before providing executable files to their stakeholders. Both are mainly for enterprises, whether it's Organization Validation Certificate or the Extended Validation Certificate. As a result, companies need clarification on selecting the OV and EV certificates.
But, you will clearly understand selecting the right one for your organization. We have got the answer for OV Code Signing vs EV Code Signing. So, let's move further to secure the source code.
What is Organization Validation Certificate and Extended Validation Certificate?
Organization Validation Code Signing Certificate is the fundamental Code Signing certificate, which every firm has to avail. It supports organizations in complying with mandatory regulations and enhances their legitimacy. Moreover, it aids in digitally signing and timestamping the executable files.
Further, OV certificates only offer advanced hashing with relief from Unknown Publisher Warning. And organizations have to organically build up their reputation for passing the Defender SmartScreen check.
Extended Validation Code Signing Certificate provides the highest security. Once CA issues it to the company, all systems recognize it as legitimate. As a result, EV Certificate integrated software never faces any warning.
Primary Differentiation Factors: OV vs EV Code Signing Certificate
Utilization
Whether it's OV or EV Code Signing Certificate, both get used by organizations to secure executable file code. Enterprises utilize them to hash the code and make it tamper-proof. It aids in preventing attackers from altering the software and ensuring its integrity.
Moreover, OV and EV Code Signing Certificates help the end-users to download and install the software smoothly. As a result, the organization's reputation gets increases, as the system doesn't show any warning to the user.
Therefore, Organization Validation Certificate and Extended Validation Certificate get used for the same purposes:
To make code secure
To optimize the company's reputation
Validation Requirement
For availing of the Organization Validation certificate, the company has to submit the following documents:
Government ID
Physical Address
Contact Number
And for obtaining the Extended Validation certificate, an organization to submit the below documents:
Government ID
Physical Address details
Operational Report (Company must be active for recent three years)
Contact Number
The primary difference between document requirements is the operational report. Certificate Authorities focus more on EV verification, the highest validation level. In addition, if the company has been active for only two years, you will get the Code Signing Certificate. However, for EV Code Signing Certificate, three years are mandatory.
Recommended: Requirements to obtain an OV or EV Code Signing Certificate
Platform Compatibility
Each project has its requirement, and publishers utilize a different platform. Hence, the companies prefer platform-independent Code Signing Certificates.
The Organization Validation Certificate is highly compatible with all the major platforms. It allows securing the source code across Windows, Java, Mozilla, Adobe, and Visual Studio.
Likewise, EV Code Signing Certificate is also compatible with all the mentioned platforms. And it also enables us to get consistent with Microsoft Authenticode.
Whether you utilize OV or EV, it will be compatible with all the platforms if you buy it from a reliable provider.
Professional Preference
From the standpoint of an IT professional, OV and EV Code Signing Certificates get preferred according to requirements.
If a company needs to eliminate Unknown Publisher Warning, its first choice will be Organization Validation Code Signing Certificate. When any end-user tries to install the software, the system will not show any alert or warning message.
On the other hand, an organization Get EV Code Signing Certificate for high-end security. It helps the companies to remove Defender SmartScreen warnings and to configure access control on the private key.
Vetting Procedure
While evaluating the documents for EV and OV certificates, CAs provide equal focus. They validate each piece of information and attest it in and out. In addition, each detail gets checked with the government database before moving further.
Additionally, Certificate Authorities call the applicant company of both certificates to verify their legitimacy. However, EV Certificates are of the highest level; it takes up to five days for issuance, whereas CA only needs 1 to 5 days to issue an OV certificate.
Additionally, CAs must follow extra CA/B guidelines, making the Extended Validation procedure more rigorous.
Recommended: Time Taken for Issuance of Code Signing Certificates
OV Code Signing vs EV Code Signing: Which one to Choose?
OV Code Signing Certificate is the standard certificate for organizations. Every company has to purchase it to hash the code and prevent Unknown Publisher Warning.
However, it has a drawback of a small system probability of showcasing Defender SmartScreen Warning to users.
Further, if you want to avert every installation-associated warning, an EV Code Signing Certificate is the right choice. It will assuredly enhance the software's trustworthiness, promising an impeccable installation.
Moreover, it will add an extra security coating, as you will have the private key as a hardware token. You can store it behind numerous physical locks to prevent unauthorized Software alteration.
Which is the best Code Signing Certificate Provider?
Once you have clarity about your Code Signing requirement, you must know from where you have to purchase it. Reviewing the following checklist before finalizing any certificate provider would be best.
Code Signing Certificate Providers must be offering all kinds of Code Signing Certificates. It will help you to select according to your dynamic requirement.
Assess the feedback and reviews of the current provider's customers and stakeholders.
Select only if you are going to get 24/7 support services.
Check the business legitimacy and compliance with industry standards.
Validate whether timestamping and limitless signing features will be available or not. It would help if you chose the certificate provider granting both functionalities.
If the checklist gets fulfilled, the provider is suitable for your business.
Conclusion
If you are an organization looking to sign your software digitally, OV and EV Code Signing Certificate are two available options. Both certificates are primarily for companies.
OV is a standard certificate, which every enterprise has to avail. However, organizations obtain EV certificates for particular purposes, such as better security.
Moreover, both certificates' vetting process, price range, and utilization are pretty different. An OV certificate gets issued within 1 to 3 days, whereas an EV can take five days. It all depends on the firm's requirements, whether they need the Organization Validation certificate or the Extended Validation Certificate.