GoDaddy is no longer selling Code Signing Certificates [Best Alternative]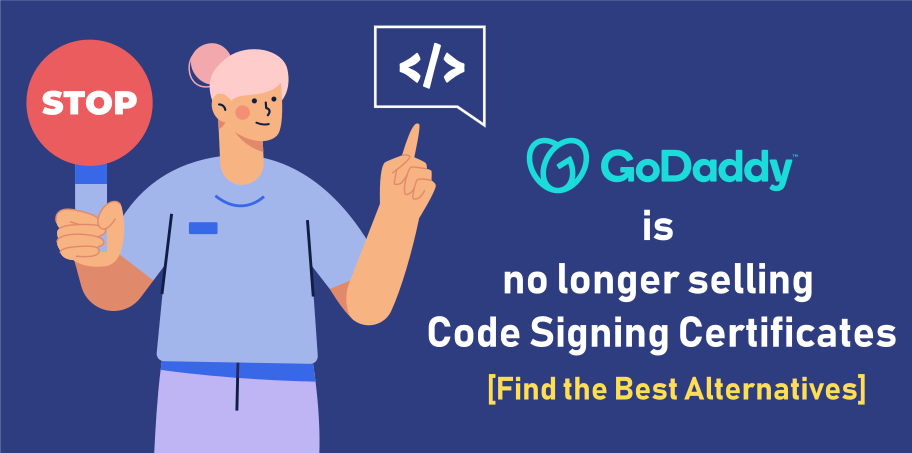 With the rolling down of the GoDaddy Code Signing Certificate issuance service, the only option that remains is to find an alternative. It would aid the software publishers in continuing their business operations and securing as much software as they want.
You can find multiple certificate providers online, but as per experts, SignMyCode is the most reliable. Its services, solutions, and operations are impressive and available at lower prices. So, let's move further to improve productivity and security with a better Code Signing Certificate.
GoDaddy Code Signing Certificate Expires: When and Why?
Yes, you read it right. GoDaddy has officially announced the elimination of its Code Signing Certificate issuance and renewal services. From June 1, 2021, no one will be able to avail Software Publisher Certificate or rekey the current certificate from GoDaddy.
In the announcement, GoDaddy clarified that publishers would get disabled from renewing their currently valid certificates. However, if their executable files contain a timestamp, they will remain valid for an extended period. Furthermore, if the publisher has not timestamped, then utilizing another CA's certificate is the only alternative.
Till now, GoDaddy has yet to issue any exact reason behind the stoppage of issuance services. But the decision is final, and their customers must use another certificate, such as Comodo Code Signing Certificate.
The Best Alternative: SignMyCode Code Signing Certificate Provider
SignMyCode is an A-Grade Code Signing Certificate provider, offering cheap and best certificates for every publisher. You don't have to worry about your expired certificates from GoDaddy, as SignMyCode has all solutions in one place.
From Individual Validation Code Signing Certificates to the Cheapest EV Code Signing Certificate, SignMyCode has everything for you. Moreover, it's an authorized partner of Sectigo, one of the most recognized Certificate authorities across digital platforms.
It offers you to avail of multiple digital certificates from a single portal in three easy steps:
Step 1: Open SignMyCode.com on a mobile or desktop browser.
Step 2: Select your Code Signing Certificate based on Validation Level/Platform/Certificate Authority.
Step 3: Add the certificate to the cart and make payment through a secure gateway. Once you complete the above procedure, you get ready to move to communicate with CA for the vetting procedure. In addition, SignMyCode only deals in security certificates.
Therefore, every certificate you buy from SignMyCode will be authentic, high-performing, and in compliance with the latest CA/B standards.
Why SignMyCode is Best Code Signing Certificate Provider?
Let's have a look at the exclusive services and features of SignMyCode, which makes it a perfect certificate provider.
Authorization from Certificate Authority
SignMyCode has all the certification and authorization from Sectigo (formerly Comodo) to distribute Code Signing Certificates. Hence, it ensures that your digital certificate will align with the latest industry policies and that its hashing and encryption functioning will be up to the mark.
Cheap Prices
To get the cheapest and best Code Signing Certificates, SignMyCode is the top-notch provider. Due to its direct partnership with the CA, it offers low prices and heavy discounts on security solutions. In addition, you can also avail the benefits of its sale from time to time.
Wide Variety
SignMyCode has certificates for every publisher, and its products include:
24/7 Support Services and Resources
By becoming a client of SignMyCode, you don't have to worry about technical complexity. You can contact their expert anytime to resolve errors in minimal time. In addition, you can also get your hands on various professional guides and manuals to understand every aspect of code signing.
Comodo Code Signing Certificate: A Top-Notch Choice for Solid Security
As SignMyCode is a top-tier certificate provider, similarly, Comodo is one of the most legit and reliable Certificate authorities. Due to avant-garde functionalities, Comodo certificates gets highly recommended by security professionals and software developers.
In addition, selecting a Comodo Code Signing Certificate will always benefit you. You will get every update as soon as any new standard gets announced. Also, every system will recognize your software as legit due to the presence of Comodo's information in, by default, the available root certificate database. Y
You can purchase IV, OV, and EV Comodo Code Signing Certificates from SignMyCode at cheapest prices.
Reasons to Buy Cheapest Comodo Code Signing Certificate
Besides Comodo's legitimacy, it also leverages you with the following:
Zero Unknown Publisher Warning
With the Comodo Code Signing Certificates, you can ensure a seamless software installation. Operating systems trust Comodo as the root certificate, and the software has a sign from its validated applicant. IV, Standard, and EV, Comodo promises zero warnings for all three certificates.
Money Back Guarantee
With the purchase of a Comodo digital certificate, you get the advantage of a 30-day money-back policy. You can cancel your order within thirty days, starting from the date of purchase. And your 100% money will get transferred back to the account.
Microsoft Defender SmartScreen Compatibility
With Comodo EV Code Signing Certificate, your software will comply with all the necessary guidelines. Your brand name will receive an instant reputation boost, and your customers will not encounter Defender SmartScreen warnings. As a result, you will analyze a rapid gain in user trust rate.
Multiple File Type Protection
You can use a Comodo certificate to sign multiple file formats, such as:
.exe
.dll
.ps1
.ocx
.cab
.java and much more
Concluding Up
With no more extended Code Signing Services from GoDaddy, organizations and single publishers can seamlessly switch to SignMyCode. It's a reputed certificate provider, having all relevant authorization to distribute digital certificates. All the SignMyCode certificates are available at affordable prices and ensure splendid security.
Moreover, its partnership with the CA benefits its customers to avail superior Comodo Code Signing Certificate. Therefore, a combination of SignMyCode and Comodo guarantees the perfect security that every software needs.