The Fundamentals of Windows Defender SmartScreen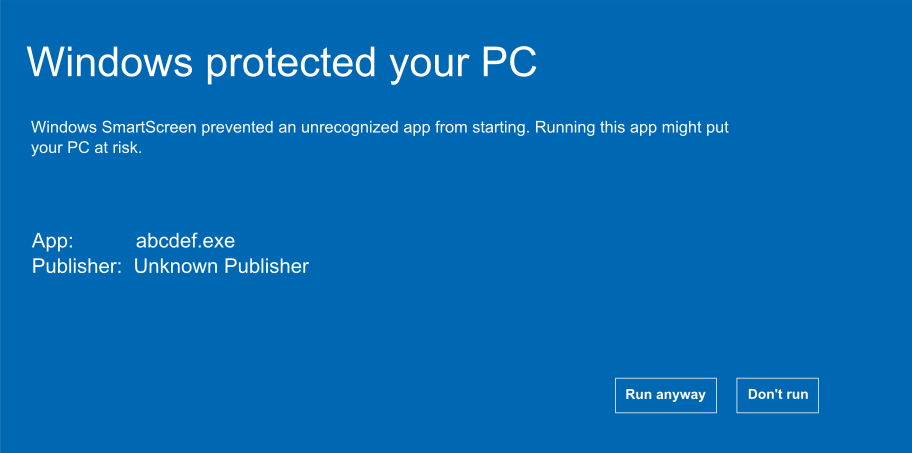 While purchasing the Code Signing Certificate, particularly EV Code Signing Certificate, we all came across the term Windows Defender SmartScreen. But, only a few understand the term correctly and purchase the right digital solution.
SmartScreen has become a prominent security Windows OS security mechanism, helping users to prevent cyber threats. It blocks installations if it doesn't recognize the publisher. This is why every publisher looks for a certificate compatible with SmartScreen policies. And it makes essential for us to understand Windows Defender SmartScreen.
What is Windows Defender SmartScreen?
Windows Defender SmartScreen is a filtering mechanism that verifies the legitimacy of files and websites to prevent malicious activities on your system. You can find it in Windows 8.1, Windows 10, Windows 11, and Microsoft Edge browser.
You don't have to configure it manually, as it gets enabled by default. The primary purpose of launching SmartScreen in Windows OS is to help users make appropriate decisions. When you try to install software from an unauthorized publisher, it shows a warning and lets you decide whether to install it or not.
Benefits and Features of Windows Defender SmartScreen
Protection from Unauthorized Applications
Whenever a user tries to install and run an application, Defender SmartScreen validates its authenticity. It checks the publisher's signature and verifies the certificate authority through the Chain of Trust. And, if any component gets discovered as illegitimate, SmartScreen restricts the app's installation.
As a result, the systems get secured from installing a virus-infected file. In addition, it saves the details of such executable files and prevents the stakeholders from running them in the future. Furthermore, if your software comes from a reputed publisher, it won't display any warning or restrict its access across the system.
Keeps the user safe from Phishing and Malware Attacks
Phishing and Malware are the two most common cyber-attacks, leading hackers to gather confidential information and corrupt victims' files. And to protect users against such illegitimate activities, Defender SmartScreen has a database of malicious websites scamming the stakeholders.
For instance, suppose you visit a malicious website on the Microsoft Edge browser. The SmartScreen mechanism will automatically analyze its URL and cross-verify its availability in the built-in database. You will get a warning to close the website or tab if it finds the exact match.
Therefore, whether there is a malicious application or a website, SmartScreen warns about both.
Automatic Blocking of Malicious URLs
Besides alerting the end-user about spiteful URLs, Defender SmartScreen also offers blocking functionality. However, it primarily provides the such feature with only Microsoft Edge browser, running on Windows 10 and 11.
If you navigate to a phishing or malware-infected site, it will block that particular website. As a result, you will get protected from getting trapped in spoofing, phishing, and scamming activities. Moreover, it comes with a top-notch security feature, securing users from PUAs (Potentially Unwanted Applications). Along with malicious URLs, it also blocks PUAs for better protection.
Reputation Checks
Before initiating the installation of software, downloading a program, and running an executable file, SmartScreen performs the reputation check. It helps the system to determine the authenticity and legitimacy of the file. In addition, its primary purpose is to allow only appropriate software utilization on the device.
Firstly, it checks whether a code signing certificate is available with an executable file or not. If a digital certificate is not present, it displays a warning; otherwise, it moves further to check the publisher's sign.
Once it confirms the digital sign, it checks the Certificate Authority details with the Windows Certificate Management Console database.
After passing all the mentioned checks allows the system to run an executable file. Hence, it provides solid security, providing all-around protection.
Supports Efficient and Safe Downloads
While using Microsoft Edge, you don't have to worry about cyber-attacks and data security. Defender SmartScreen is, by default, enabled in the Edge browser, constantly monitoring the website URL. It has a dynamic database, which frequently gets updated with data of malicious sites.
If you visit any harmful portal or site or utilize an infected web app, it will alert and stop you. In addition, if you discover such a website, you can also report it and contribute to SmartScreen's database.
Aligns with Latest Trends and Standards
As Defender SmartScreen is a product of Microsoft, it completely aligns with all the latest industry standards. Whether it's NIST, ISO, or any other regulatory body, it follows its policies and maintains data integrity, confidentiality, and availability.
Moreover, it also assures the user to process every data bit in an encrypted format while checking any file. And, if it is analyzing a third-party application, browser, and email client, it also complies with appropriate policies and maintains data security.
Constant Diagnosis and Updation
Windows Defender SmartScreen is an advanced security system that frequently updates its system and understands potential cyber risks through the collected information. It constantly assesses the reports submitted by end-users, software publishers, and developers. As a result, whenever the stakeholder visits any malicious site or tries to run a harmful executable file, SmartScreen prevents it.
Hence, SmartScreen is a continually updating mechanism having the potential to protect against potential cyber threats and also support the system and end-users to maintain data security.
Why is Defender SmartScreen Enabled By Default?
Microsoft highly focuses on the security of its users and provides a secure environment for executing its operations. With the increase in cyber-attacks, Microsoft introduced the Defender SmartScreen mechanism in its latest Windows OS version. When you install a Windows operating system, Defender SmartScreen gets enabled with it.
Along with the in-built firewall, it solidifies Windows security, preventing potential cyber threats.
In addition, the following are the primary reasons why the SmartScreen filter is factory preset.
To protect users from installing harmful files containing viruses and malware.
To maintain data integrity and confidentiality across the system.
To prevent users from sharing personal details through an insecure website.
To aware the stakeholders about phishing websites.
To check and verify the validity and authenticity of the software, program files, and URLs.
Software Publisher's Standpoint: Unleashing Relation Between Code Signing Certificate and SmartScreen
Windows Defender SmartScreen and EV Code Signing Certificate are very closely related. Before installing any software, the SmartScreen filter checks the code signing certificate. If it finds the certificate, then it only allows us to move further.
In addition, software publishers always try to comply with SmartScreen policies, as it helps them to optimize user trust. And To achieve the goal of a higher trust rate toward the brand, developers use EV Code Signing Certificate. It provides instant trustworthiness to the publisher, helping them to pass all SmartScreen checks.
Besides EV Certificate, many publishers utilize IV and Standard Code Signing Certificate. However, with IV and standard, there's always a slight probability of not getting recognized as legitimate. Therefore, to ensure a seamless experience, organizational software publishers prefer EV Code Signing Certificate.
Getting the Top-Notch EV Code Signing Certificate from the Best Code Signing Certificate Provider
To pass your application through Defender SmartScreen, you must purchase a cutting-edge EV code signing certificate. It will aid you in securing the source code and enhancing your legitimacy across platforms.
Thus, purchasing the certificate from a reliable provider must be your priority.
Before you select any certificate provider, you must go through the below points and cross-verify.
The provider must be an authorized partner of a Certificate Authority, similar to SignMyCode's partnership with Sectigo.
Support services must be available. Prefer 24/7 available support through ticketing and live chat system.
Online and free resources, aiding to install, configure and simplify code signing certificate operations.
Windows Defender SmartScreen FAQs
What Can I Do if SmartScreen Warns about a website I Visit, but It's not unsafe?
Just follow the below steps to report a website as safe in Microsoft Edge.
You're on the Warning page.
Choose More information >> Report that this site doesn't contain threats.
Go to the Microsoft feedback website and follow the instructions.
What Can I Do if SmartScreen Doesn't Warn me about a Website I Visit, but it is unsafe?
Just follow the below steps to report a website as unsafe in Microsoft Edge.
You're on a website you believe is unsafe.
Select Settings and Settings and more >> Help and feedback >> Report unsafe website.
Follow the directions.
Can I Turn on or off SmartScreen?
Yes, you can. In some organizations such as on a private offices and government/private school network, these settings may be managed by a system admin, and it can't be changed. Follow the steps to turn SmartScreen on or off in Microsoft Edge:
Go to Settings and more >> Settings >> Privacy, search, and services.
Under Services option, turn Microsoft Defender SmartScreen on or off.
Wrapping Up
Windows Defender SmartScreen is a cutting-edge security tool helping end-users to remain secure. It analyzes the websites on edge browsers and files on the system to block harmful among them. With the increase in the potential of cyber-attacks, releasing the SmartScreen filter for Windows 8.1, 10, and 11 is a game-changing step by Microsoft.
In addition, if you are an organizational publisher, you must use the Comodo EV Code Signing Certificate. It will help you to pass your software through SmartScreen check and improve trustworthiness.
Recommended Read: How to Sign Executable Files Using EV Code Signing Certificate?