How to Instantly Sign Your Software Using the DigiCert Utility Tool?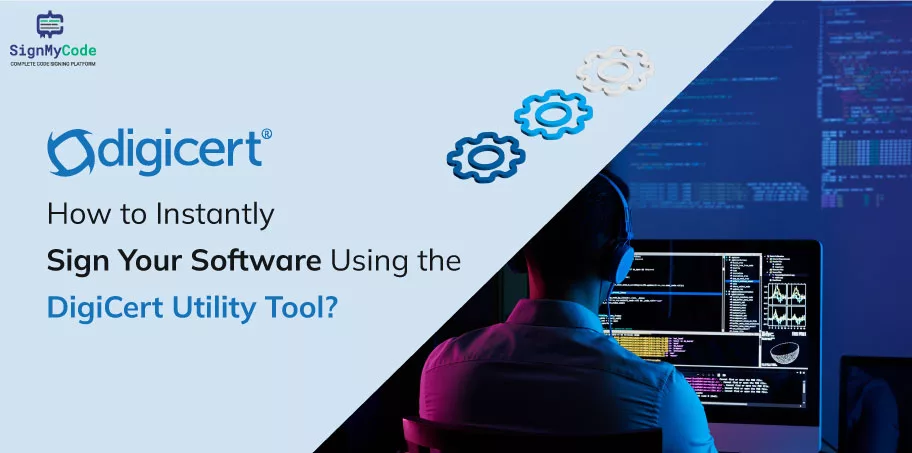 We are already aware of the documents and contracts that require legal signatures for safety purposes. These signatures act as word of mouth between two parties who are willing to engage with one another based on the foundation of trust.
But this type of document and contract signing is done on paper which is not always reliable in case torn or lost. In fact, it is also unsafe for the environment in general. That is when digital signature software started to gain popularity.
Digital signature software is a next-generation software security tool that promises to obtain secure signatures with paperless involvement. This process is conducted via cryptographic functions.
Today, many bankers and even HR professionals fully leverage this type of signature-related medium to amp up their digitalization. In this manner, it also evidently empowers sustainability.
Digital signatures are much more reliable than signatures on paper. Even if one knows all about algorithms relating to these signatures, it is still almost impossible to break through them to tamper with the signature.
On the other hand, signatures made on paper are easy to tamper with once third parties have them in hand. That is why digital signatures for organizations looking for paramount security are very important today. Let us learn more about them as we read.
Overview Of DigiCert Utility Tool
DigiCert Utility Tool is a security tool that administers the management of certificates and troubleshooting. It is essential for Windows users today and is free of charge. This indispensable tool is thus the need of the hour for all SSL and Cheap code signing certificate users.
Building trust digitally may not be the most convenient thing to do. But with potential tools like DigiCert Utility tools, it only gets easier. These are globally-trusted tools that help with digital signature management and provide real-time technical support to users in need.
Benefits of Using the DigiCert Utility Tool
1. Security Benefits
Very few companies are devoted towards their customers. Although most of them promise customer satisfaction and paramount user security, they fail to live up to their promises.
DigiCert makes for an exception in this field. By bringing its comprehensive attention to the welfare of its customers, they easily uphold its promises relating to security. They make sure that their focus is on the customers and help them make secure transactions whenever they indulge in the process.
2. Efficiency Benefits
DigiCert focuses on providing intense, holistic and quick digital signature, troubleshooting and certificate management services. Their efficiency in this process stands out among all others. But to fuel this, they also provide a great customer support team that avails themselves 24*7 just for you.
Their technical team avails themselves on call, email and even live chat sessions to help you resolve your queries right on time. So you no longer have to wait in long queues to get your queries resolved. DigiCert Code Signing Utility Tool is here to help.
Step-by-Step Guide to Instantly Sign Your Software with the DigiCert Utility Tool
Step 1: Install and Launch the DigiCert Utility Tool
Downloading the DigiCert Utility Tool is fairly simple. But make sure that you download it from the DigiCert Utility Tool website itself to be on the safe side of things. You can visit the DigiCert Utility Tool website and tap on the Download button on its homepage. The software will get downloaded to your server. In case you face any difficulty, return to their website and initiate a chat with their technical team. Since they provide 24*7 assistance, they will extend a helping hand to you.
Step 2: Complete the Required Information
Upon installing the DigiCert Certificate Utility for Windows, you may be asked to fill up certain confidential information. This may be related to your business, location and more. Make sure you fill-up the details carefully. Remember not to leave any inaccurate information as that can lead to a problem in terms of security later on.
Step 3: Choose Your Signing Option
There are many signing options to choose from. Make sure you choose as per your convenience and requirement. Remember that the signing option you choose will be directly associated with the software security you are looking for. So, choose accordingly.
Step 4: Generate Your Software Signature
In case you have purchased a code signing certificate, make sure it is connected to a token. This token will include your private key.
Now that you have already downloaded the DigiCert Utility tool on your Windows server, it will be easy to implement it.
Run the executable DigiCert Certificate Utility For Windows.
Click twice on the DigiCertUtil now.
As soon as the tool opens on your device, tap on Code signing. It will be a logo in Blue and Silver.
Now, choose your certificate for signing purposes and tap on Sign Files.
If you fail to view your code signing certificate, remember that you haven't plugged-in your token as of now. So, do that.
Now, tap on the Code signing window, and choose Add Files. Navigate and choose the software.
Finally, tap on the Sign icon. As soon as you sign software, a pop-up will come on your device. It will say that every file has been signed on your device. So, now you are good to go.
Troubleshooting Tips for Signing Your Software with the DigiCert Utility Tool
Tip 1: Verify The Software Is Signed Properly
Although you have followed all the steps thoroughly, it is a good practice to ensure that your software was signed correctly. It is very easy to verify this by following the steps we have mentioned below.
Tap on Code signing when you visit the DigiCert Utility Tool on your Windows device.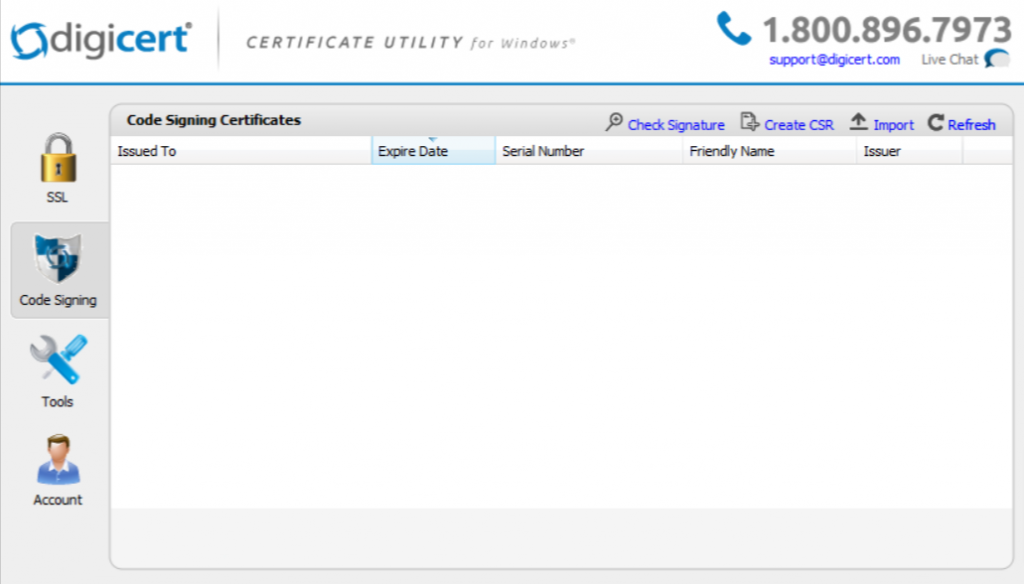 Now, tap on Click Signature, which will be available in the top-right corner. Then, tap on the software file that will help you verify the signature.
Now, go to the Code signature certificate Check Window. Here, you will get to see a green check mark that says that both your file has been signed and the signature is properly verified.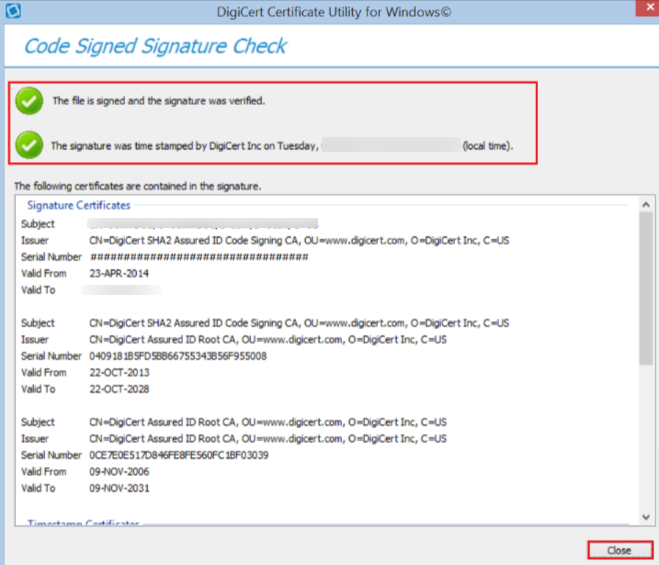 Tip 2: Make sure You are Using the Latest Version of the Tool
Ensuring that you use the latest version of the tool means it will be powerful enough to crack any insecurity issues that occur in and around your device. This way, your Windows Code signing Certificate will also be safe, and your business confidentiality will not be affected.
Tip 3: Double-Check all Information You Have Entered
When you enter your important information wherever required during the installation process of the tool, make sure you have entered all information correctly. This is significant so that there are no issues to encounter relating to security. Make sure you double-check everything for this purpose and learn how to use DigiCert utility to help you in need.
Winding Up!
DigiCert Utility tool can be very useful for Windows users. We hope that this holistic guide will assist you in understanding the benefits, functions and utilization of this tool thoroughly. The step-by-step process for installing and using the tool correctly that we have laid above for you is also sure to assist you in need.