Windows 10 Certificate Manager: The Ultimate Tool to View Certificates on Windows 10
Certificates verify the authenticity of a website and its users, and they can encrypt data sent over the Internet using SSL technology. The root certificate authority (CA) is responsible for issuing the most trusted certificates in a network. A root certificate issued by a reputable certificate authority is considered to be extremely reliable.
Certificates rely on public key infrastructure (PKI), which entails the usage of a private key and a corresponding public key. An asymmetric cryptography certificate cycle works like this: a certificate is signed by a CA using a private key that the user keeps secret.
A browser's public key is used to decrypt symmetric-key encrypted messages sent to the user. The browser uses this key to encrypt all messages sent between the user and the browser during that session.
Certifications often expire after one or two years. Any time a certificate is revoked, the relevant information is recorded on a certificate revocation list (CRL). After a certain amount of time has passed since a certificate was revoked, it will no longer appear on the CRL.
Although certificates are crucial, the typical user will have very little to do with them outside of maybe installing certificates to access certain websites.
Certificates are most frequently used by administrators and individuals who provide IT and security assistance inside a business. However, your company may have very specific needs for certificate contact.
What Is the Windows 10 Certificate Manager?
Every contemporary Windows machine has a control panel called the Certificate Manager. It's a utility that lets you manage the digital certificates on your device in a number of different ways, such as viewing them, editing them, exporting them, deleting them, and importing new ones.
The Windows 10 Certificate Manager tool is the location to import digital certificates immediately after installing them on your Windows 10 machine. With this simple-to-operate dashboard, you may quickly and easily examine all of the certificates that have been installed on your Windows 10 computer like:
Document signing certificates.
Client authentication certificates
But the Windows 10 Certificate Manager stores more than just your own personal or company certificates; it also displays all pre-installed publicly trusted root certificates, CRLs, and trust lists (CTLs).
Here, you'll learn how to use the Certificate Manager utility in Windows 10. Then, we'll show you how to access the digital certificates your company has issued and the public ones that have been placed on your device. Before we go into how to examine certificates in Windows 10, there's one more important thing worth mentioning.
Certificate Manager Tools: Snap-In vs. Command-Line Utility
The Certmgr.msc file is a snap-in for the Microsoft Management Console. The snap-in is a helpful interface for incorporating new features into the management panel of your device (e.g., a certificate manager).
When compared to Certmgr.exe, a command-line application used to handle certificates; this is different.
Let's go straight into using the Windows Certificate Manager interface to view, delete, or install certificates on your device now that we've covered what it is and why it's helpful.
How to View Installed Certificates on Windows 10
To begin, launch the Certificate Manager in Windows 10. A certificate or Cert can be used in the run command to do this.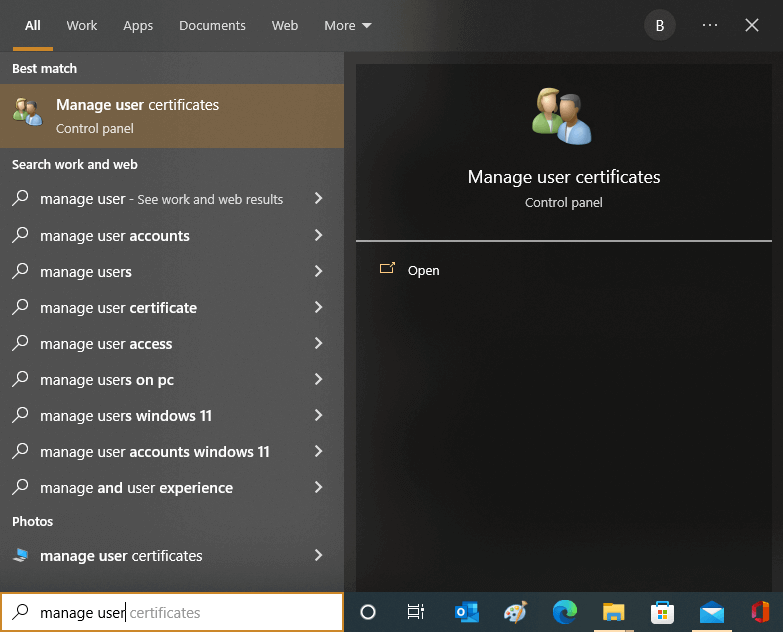 At the top of the menu, choose Manage user certificates.
A new window labeled "Certmgr" will come up. The Certificate Manager in Windows 10 is where you may access your computer's installed certificates.
Next, open the Certificates folder by double-clicking the Personal folder in the left pane.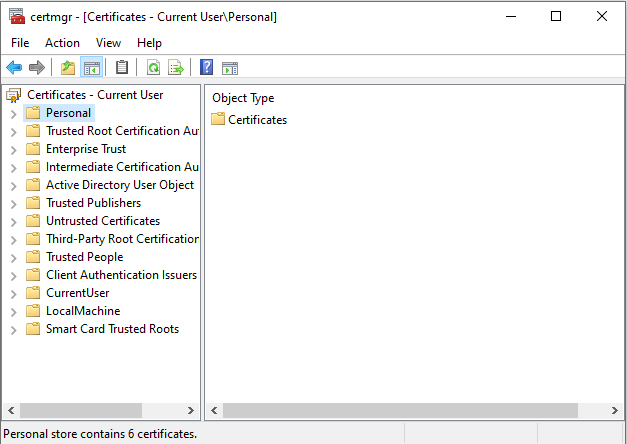 The digital certificates that have been installed on your laptop may be viewed by selecting the Certificates folder in the left menu. The right sidebar will display them.
Certificates may now be viewed in detail by only being double-clicked. It will open a new window with details on the digital certificate, such as what it may be used for, who was given access to it, and what other certificates it relies on.
If you're using Windows 10, you should now know how to access certificates. In any case, if you're wondering which certifications Windows has stored on your machine, you're in the right place.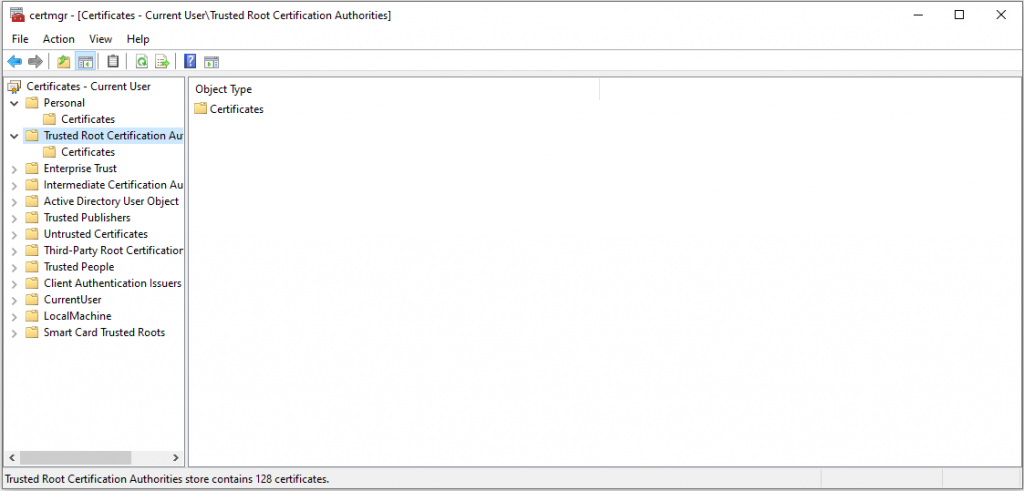 Clicking this will open a folder called Certificates, inside of which you'll find all of your device's trusted root certificates.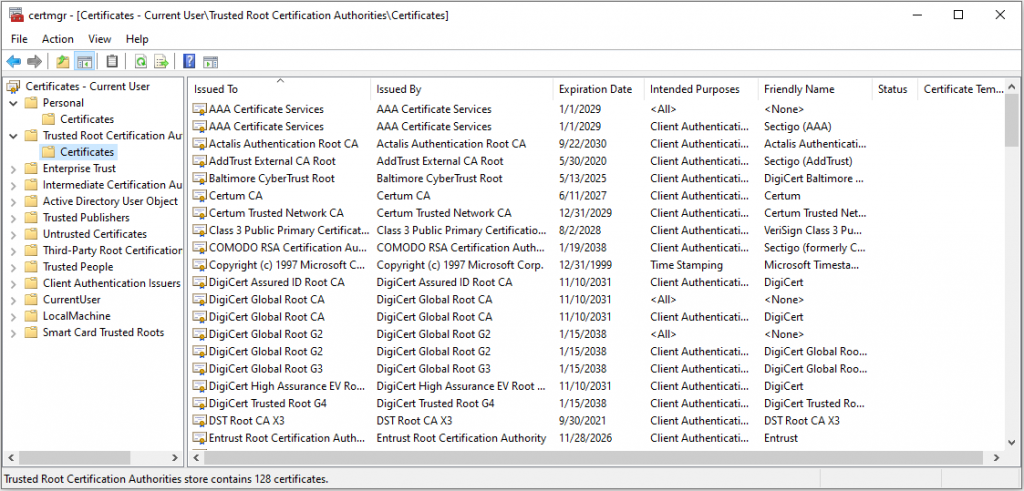 Conclusion of Windows 10 Certificate Manager Tool
To conclude, if you know where to search, it's not hard to figure out how to access certificates in Windows 10. It's not hard at all if you know what you're doing.
Recommended Read: How to Sign Windows Application or EXE?