Importance of EV Code Signing Certificate for Apps and Software Security
Thanks to EV Code Signing Certificates, a software application can be downloaded and installed with high trust. These certifications offer the highest assurance signal that the product hasn't been tampered with by removing any potential warning indicators that customers may perceive. This promotes credibility and confidence in the software development industry.
For the code signing certificate to be granted, the identity of the publisher and the software publisher must be strongly validated. As a result, the certificate's main goal is security. This is done to prevent consumers from downloading harmful software that can turn out to be malicious programs.
What is an EV Code Signing Certificate?
An Extended Validation Code Signing Certificate is the greatest degree of authenticity, and security for signing code is provided by signing certificates. This increases confidence and the number of downloads of your signed apps.
Also. these digital certificates are particularly helpful when distributing software over the Internet since the software can visit several dubious parties or webpages before downloading and using it.
An extended validation (EV) certificate authority adds an additional layer of security as the EV certificate authority verifies the identity of the software developer before issuing the certificate. 
Recommended: What is EV Code Signing & Its Impact on Enterprises? [Guide]
The EV code signing Certificate is supported by a hardware token that stores the private key of the certificate, thus making it much more secure than other code signing certificates. EV certificates are renowned for providing a higher assurance to end users that they are downloading genuine and safe software.
Recommended: Standard Code Signing vs EV Code Signing
Numerous well-known and significant software producers thus deal with hacker efforts to disseminate harmful malware using their brand names and exploit their programs.
Theft of a code signing certificate's private key is a frequent issue. The hacker then has the potential to acquire the confidence of end users by signing his malicious code using the manufacturer's certificate.
Recommended: EV Code Signing without Hardware Token – Is It Possible?
To avoid this, organizations should opt for an EV Code Signing certificate, as it offers an extra layer of security supported by a hardware token.
Features of EV Code Signing Certificate that you must know
Below are the highlights and advantages of getting an EV Digital Signing Certificate:
EV digital signing certificates are equipped with a technology called block security alerts. This means that the trustworthiness of the signature is verified on the fly, and any malicious code will be blocked from being used in the signature. This ensures that the signature remains secure and unhackable.
They are cross-platform and limitless signing compatible. This means that you do not need to worry about compatibility if you are using a different operating system or device. Concerns regarding the signature's compatibility are unwarranted.
Timestamping is a technique EV digital signing certificates use to secure your digital signature. The digital signature is still valid even if the underlying digital document or data is modified. This makes it possible to maximize the effectiveness and dependability of the digital signature.
Digital signatures with EV certificates provide reliability. This indicates that confirming the signer's identity is feasible and that the signature belongs to the correct individual. This makes it easier to make sure that a digital signature is reliable and secure.
EV digital signing certificates use the most secure encryption to protect private keys. This guarantees that the private key is kept safe and that only authorized users may access it.

The two-factor authentication offers an extra layer of security to prevent unwanted users from accessing the private key.
Overall, EV digital signing certificates offer the highest level of trust to any organization or small business.
Things you Require for the Validation Process of EV Code Signing
Every EV Code Signing Certificate's robust security solution for businesses helps organizations protect their software and digital assets against tampering and malware.
The Certificate Authority must validate the legitimacy of the organization before issuing the certificate.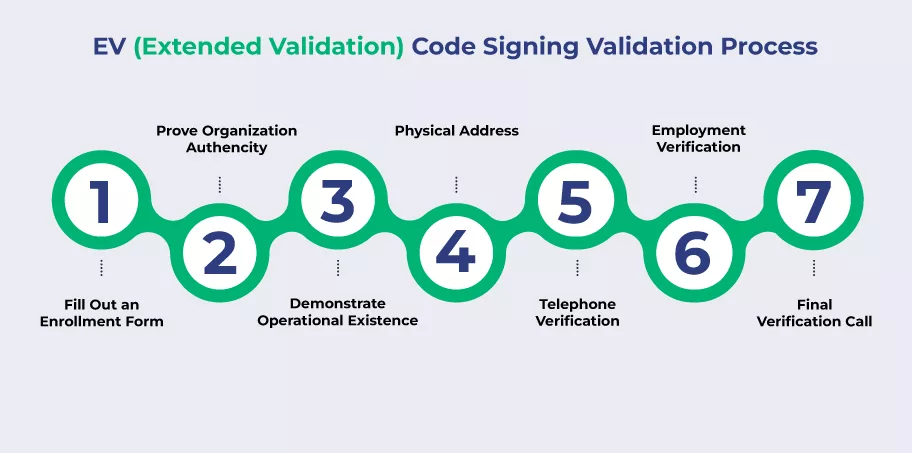 The organizations must submit the necessary paperwork and documents to complete the Extended Validation process of the EV Code Signing Certificate.
This includes a CA-registered Third-Party Report, and Government approved IDs such as government registration, Dun & Bradstreet report, operational license, and legal opinion letter.
A detailed address document, such as a DBA statement or a government-approved report, is also required.
Finally, the Certificate Authority will call the organization, and the organization should provide a callback number to complete the validation process.
Organizations also need to submit a Dun & Bradstreet report for verification.
The EV Code Signing Certificate's rigorous agreement and validation process ensures organizations can trust the certificate to secure their valuable digital assets.
Importance of EV Code Signing Certificate in Apps and Software's Security
For all app developers, the EV Code Signing Certificate is a ground-breaking technology that offers more security and confidence. It is a digital signature that verifies the legitimacy of software or an application and gives end users more confidence in the reliability of the code.
Microsoft SmartScreen Filter will never restrict apps or software that has been signed with an EV Code Signing Certificate, provided the code is trustworthy. Also, the EV Code Signing Certificate aids in safeguarding the certificate holder against loss and abuse.
Additionally, the EV Code Signing Certificate offers improved usage security, a trustworthy signature, and increased usage security. It is a safe technique for programmers to sign their code and for consumers to feel that the software and application are reliable.
In comparison to a standard certificate, the EV Code Signing Certificate has a greater degree of assurance from the Certificate Authority.
In a nutshell, both app developers and end users may benefit from the EV Code Signing Certificate in a number of ways. It offers stronger use security and defense against certificate theft and misuse and enhanced confidence and assurance for both parties.
These factors make it a crucial security feature for all app developers.
Top Certificate Authorities Offering EV Code Signing Certificates
Digital signatures are an important part of modern life and businesses, with their ability to authenticate that digital documents and data have not been altered.
EV digital signing certificates offer the highest level of trust and security compared to other digital signature solutions. Check out these cheapest EV Code Signing Certificates below!
Wrapping up
To sum up, EV Code Signing Certificates are designed to provide a high level of trust and safety when downloading and installing software. The stringent validation process provides customers and users with the assurance they need to download safely and securely to use the software.
Best Place to Get Cheapest EV Code Signing
Get an instant SmartScreen reputation boost from Microsoft by getting EV Code Signing Cert!