What is an Organization Validation (OV) Code Signing Certificate?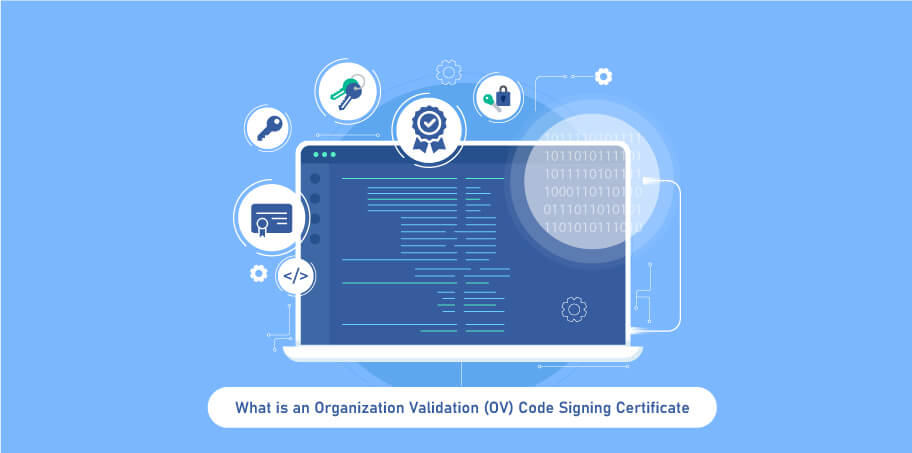 An organization must utilize an OV Code Signing Certificate whenever it releases any software. However, many firms are unaware of it and launch their software without any digital sign.
Therefore, not using an Organization Validation Code Signing becomes a drawback.
So, by moving further, you will get a detailed insight into the OV Code Signing Certificate. It will help you to understand its meaning, working, need, benefits, and approach to choosing an authentic provider.
A Comprehensive Overview: What is OV Code Signing Certificate?
As the name defines, Organization Validation Code Signing Certificate is for companies providing software to their stakeholders. It is also popular as the Standard Code Signing Certificate, as its the fundamental security solution to maintain code integrity.
Let's understand it with an example.
For instance, your organization has developed an application and wants to release it to the end-users. Before launching it, you will have to align with industry standards by putting your digitally sign on it. For such purposes, you have to utilize the standard Code Signing Certificate for organizations.
Hence, you will use the OV Code Signing Certificate.
OV certificate is entirely different from the IV (Individual Validation) Code Signing Certificate. CAS issues it only to legitimate and government-registered firms. Its vetting process is quite streamlined and effortless to fulfill. Once you obtain the OV Certificate, your users will not face an Unknown Publisher Warning.
Thence, OV Code Signing Certificate is a significant software security and brand reputation boosting solution.
Benefits and Needs of Organization Validation Code Signing
Various organizations release their software without digitally signing it. However, they are unaware that it can directly impact their revenue, productivity, and reputation.
Therefore, every enterprise requires an OV Code Signing Certificate for the following reasons:
Digital Sign helps the operating systems to recognize brands more effectively.
It aids in providing a seamless user experience, enhancing satisfaction rates.
Professionals recommend the software, as it assures security.
OV certificate removes Unknown Publisher Warning.
It prevents cyber-attackers, hackers, and crackers from making illegitimate alterations.
Furthermore, OV Code Signing also leverages organizations with some additional advantages, such as:
It helps the firms to perform hashing on the source code and provide secure software to their stakeholders.
OV Certificates eliminate system warnings, boosting user trust in the organization. Further, it helps in optimizing productivity and company capital.
It supports safeguarding the software getting curated on different platforms.
Moreover, companies get an efficient way to align with the latest industry regulations, preventing legal actions against them.
It improves the publisher's authenticity, leading to gaining new customers and getting a step ahead of competitors.
Additionally, it braces up the companies to assure data integrity to end-users.
Understanding the Working of the OV Code Signing Certificate
OV Certificate aligns with necessary CA/Browser standards and functions according to it. And below are the primary operations it performs to provide all the benefits.
Step 1: When you start the digitally signing process, the software source code gets hashed, generating a unique hash value.
Step 2: You have to utilize the private key issued with the Code Signing certificate to perform encryption on hashed code. It strengthens data security.
Step 3: Once the Certificate encrypts the code, it adds a timestamp and your signature to the software.
Step 4: As a result, your code gets converted into an unreadable format. And your digital sign is a legitimate company indicator for the system.
Validation Process to Avail Cheap OV Code Signing Certificate
If you want to establish a strong software security foundation, you must undergo the following procedure to avail yourself of the OV Code Signing Certificate. It's wholly sleek if you follow all the Certificate Authorities' instructions.
Step 1: You have to purchase the OV Code Signing Certificate. Then, you will receive an email from the Certificate Authority with document submission guidelines.
Step 2: You have to prepare and submit the following documents.
Government Company Registration
Physical Address Proof
Active Telephone Number (Present in Government or Third-Party Directory)
Step 3: After receiving the documents, CA will cross-verify the information with the government database. CA will move the application to the next phase if all the details match. Otherwise, you will receive an email from CA for correction or further processing.
Step 4: After passing the document attestation, you will receive a verification call. It's the final process involved in Organization Validation.
Step 5: Once you complete all the processes, CA will issue you the OV Code Signing Certificate.
Where to Buy and How to find the best Code Signing Certificate Provider?
If you are looking to purchase the Best OV Code Signing Certificate, then you should consider the below-provided tips:
Search across different browsers and list down all the top vendors and providers.
One-by-one, assess each distributor's products, support service, and price.
Analyze the feedback, reviews, blogs, and articles about the providers.
After analyzing all the aspects, shortlist the most prominent providers. As a result, you will clearly understand the vendor fulfilling your requirements.
OV Code Signing Certificate in a Nutshell
Organization Validation Code Signing Certificate is a crucial yet mandatory software security solution. It helps the firms in improving the data integrity by hashing and encrypting. In addition, it aids in enhancing the brand value and reputation, as systems don't show warning messages to end-users.
Further, it prevents attackers from performing unauthorized code alterations. And, if any company wants an OV certificate, it has to follow CA guidelines and provide mentioned documents. As a result, within a short period, the firm will have its Code Signing Certificate, enabling it to digitally sign and accelerate software security.