A Complete Guide on Comodo EV Code Signing Certificate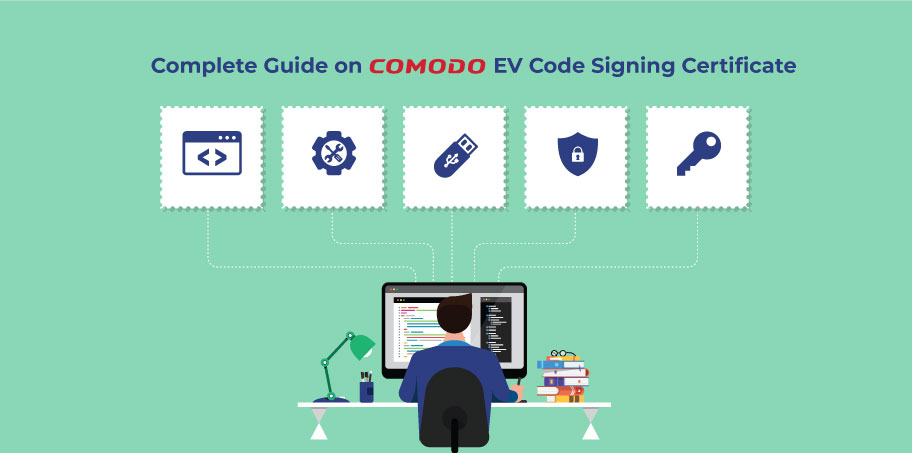 What is Comodo EV Code Signing?
EV Code Signing Certificate resides at the top of the digital certificate hierarchy due to its enormous security functionalities. Organizations active for a minimum of three years can only obtain it by undergoing a strict validation process. In addition, Certificate Authorities perform a rigorous verification of all documents before issuing the EV Code Signing Certificate.
Furthermore, the EV certificate removes Unknown Publisher and Windows Defender SmartScreen warnings. And provides the leverage to receive the private key in an external hardware token from the Certificate Authority.
As a result, your users experience smooth installation, the firm's digital reputation gets an instant acceleration, and an additional security layer for private key comes by default. Therefore, EV Code Signing Certificate is a synonym for the highest level of source code protection.
How Does Comodo EV Code Signing Certificate Work?
EV Code Signing Certificate performs the hashing and encryption in the background but more securely than other certificates. Firstly, you must insert your hardware token/USB into the system to provide access to the private key. And once you execute the appropriate commands, the EV certificate will start its action.
The original source code will get converted into a hash digest. Then, the certificate takes the hash file as input and performs encryption upon it. Remember, at the encryption step, the certificate will utilize the private key in the hardware token.
In addition to it, your signature and timestamp will also get integrated into the encrypted hash file. As the final output, you will receive signed software ready to be installed on compatible platforms without showing the end user any installation-associated warning.
Validation Process for Comodo EV Code Signing
Before issuing the EV Code Signing Certificate, every Certificate Authority assesses the organization's authenticity.
To complete the Extended Validation procedure, a company will require the following documents:
Government Approved ID/CA-registered Third-Party Report (Govt. Registration, Dun & Bradstreet Report, Operational License, Legal Opinion Letter)
Full Address Proof Document (DBA Statement, Government Approved Report)
A Telephone Number
If you submit a Dun & Bradstreet Report, it will contain all your information. Hence, you don't have to submit any additional documents then.
Furthermore, once you submit all the mentioned documents, CA will cross-verify them with government databases. And at the final step, a CA representative will contact you on the provided telephone number to confirm the order details.
After 100% satisfaction, Certificate Authority will issue you an EV Code Signing Certificate. Although, if CA founds any error or discrepancy, you have to start from the beginning. Therefore, you should always double-check the documents before submission.
Benefits of Comodo EV Code Signing Certificate
Whenever an organization has to invest in an EV Code Signing Certificate, it always selects the best-in-class Certificate Authority. And industry veterans consider Comodo one of the best Code Signing Certificate Providers.
You must have also seen numerous distributors selling Comodo EV Code Signing Certificate. But what is so special about it is that so many organizations are purchasing it. To find out, let's move further and discover what advantages it provides.
Why Professionals consider EV Code Signing Certificate from Comodo?
We all have seen Comodo leading the charts of every Code Signing Certificate vendor. And it's all because of its immense usage and popularity. But have you ever wondered why most publishers prefer it?
We have got the answer to it. Let's have a look.
It follows all the CA/B standards, protocols, and guidelines.
Comodo certificates always utilize the latest hashing and encryption algorithms.
Its support services are top-notch and are available 24/7.
It gets recognized by 99.9% of operating systems and browsers.
It has one of the most secure PKI infrastructures.
Primary Advantages of Comodo EV Code Signing Certificate
Multi-Platform Compatibility
Instant Recognition as a legitimate business
Seamless User-Experience
Authentication using Hardware Token
Tamper-Proofing of Code
Impeccable Validation Process
1. Multi-Platform Compatibility
An EV Code Signing Certificate, which you can utilize for every software, is always beneficial. It helps in saving money, as you don't have to buy different certificates and it fulfills all your requirements. And Comodo EV Code Signing Certificate is just like that. It is compatible with all the software platforms, such as:
JAVA
Microsoft Windows
Mozilla Object Files
Visual Basic
macOS
Microsoft Silverlight
Adobe AIR
In addition, it is available in both 32-bit and 64-bit sizes in EXE, DLL, CAB, MSI, and OCX formats. Therefore, you can utilize it for securing any software, regardless of the platform.
2. Instant Recognition as a legitimate business
Comodo is a veteran Certificate Authority and has been active for a long time. All its information comes by default in the operating system's database. As a result, the system recognizes every software with Comodo as root CA, especially its Extended Validation Code Signing Certificate.
All browsers and operating systems know that Comodo undergoes in-depth verification before issuing the certificate. Hence, operating systems trust their software if some organizations have Comodo Extended Validation Code Signing Certificates.
In addition, it assures bypassing Microsoft Defender SmartScreen, an advanced mechanism to check software before installation. So, once your organization gets a Comodo EV certificate, your trustworthiness gets accelerated.
3. Seamless User-Experience
If you select the Extended Validation Code Signing Certificate from Comodo, you are assuring a smooth user experience. Comodo follows and maintains all the CA/B guidelines, aiding its user to never face warnings.
Whenever your stakeholders download and install software with Comodo EV Code Signing certificate, they will never face Unknown Publisher and SmartScreen alerts. As a result, people will start trusting your business, and your productivity will increase.
Thence, Comodo EV Code Sign Certificate carves the path to earn more revenue along with its top-notch security functionalities. For a high return on minimal investment, Comodo is the name.
4. Authentication using Hardware Token
As Comodo is a leading Certificate Authority, it always takes care of its user in the best way possible. You get the private key in an external USB drive with every EV Software Publisher Certificate. The primary aim of providing it in a hardware token is to strengthen data security.

Recommended: EV Code Signing without Hardware Token – Is It Possible?
Moreover, it leverages you to configure as many access controls upon it as you want. And it also limits unauthorized access, making the core more secure. Whenever you modify the software, you will require a hardware token to decrypt and encrypt it.
Therefore, the full authority will be in your hands as a physical hardware piece.
5. Tamper-Proofing of Code
As Comodo aligns with all the industry standards for guaranteeing source code security. It also uses the highest level of hashing and encryption algorithm. It first hashes the code and then performs encryption to solidify its protection mechanisms.
It leads to making the code tamper-proof, as it gets behind the layers of complex mathematical computations. Therefore, even if an attacker tries to breach confidential software data, it gets trapped inside a highly composite security algorithm. As a result, your executable becomes completely secure.
6. Impeccable Validation Process
Whether you Purchase Comodo EV Code Signing Certificate directly or from an authorized reseller, its validation process is quite simple. You will get the mail listing all the documents you must submit. Additionally, you can contact dedicated support services for any general and technical query regarding the same.
Once you submit the documents, Comodo will rapidly complete the validation procedure. And within three to five, you will get ready to digitally sign your executable files on any platform.
Which is Best: Sectigo EV or Comodo EV Code Signing
Still, many people need clarification on Sectigo and Comodo, as both are very closely related. So, let's clear up this confusion.
You can consider Comodo and Sectigo the same brand, as a few years back, Comodo gets rebranded as Sectigo. Comodo was an authentic Certificate Authority. However, when it gets acquired by another firm, its name and symbol get changed. So You can consider Sectigo EV Code Signing Or Comodo EV Code Signing!
Both Comodo and Sectigo products come from a single organization. Hence, both provide almost similar functionalities but with different names.
Wrapping Up
Comodo is a reputed and trusted Certificate Authority whose products are top-rated among industry experts. Also, it follows all the standards and guidelines, making it recognizable as a legitimate brand. Due to it, Comodo users get the leverage of an instant trust boost across browsers and operating systems.
Additionally, software getting signed using Comodo EV certificate impeccably passes SmartScreen verification. As a result, users get a smooth experience, impacting the organization's revenue growth.