What is DigiCert EV Code Signing Certificate? How Does EV Code Signing Works?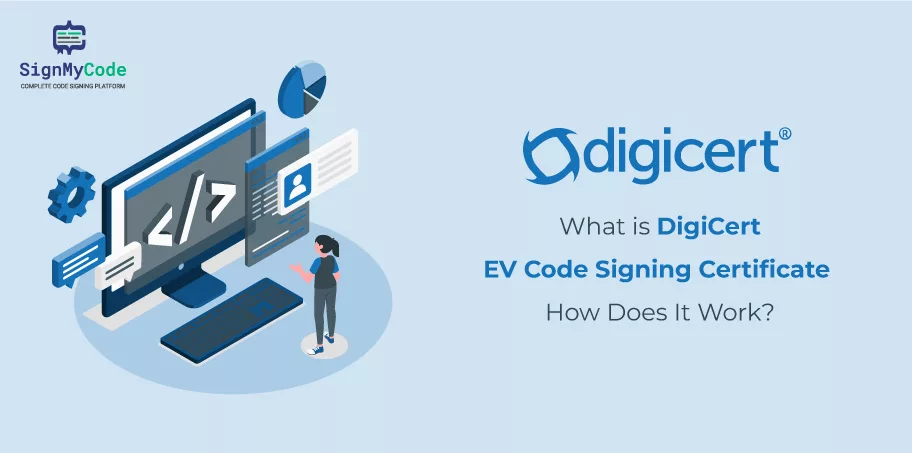 Among the numerous certificate authorities, DigiCert is a prominent name, whose solutions are always up-to-the-mark. And DigiCert EV Code Signing Certificate is one of the most advanced software security solutions.
From protecting an application from malicious actors to removing warnings and enhancing brand value, it provides some amazing benefits.
If you are a developer, a software publishing organization, or a technology enthusiast, then you must know about it. So, let's get started to understand "What is DigiCert EV Code Signing Certificate?".
DigiCert EV Code Signing Certificate: A Comprehensive Overview
DigiCert is a well-known and reputed Certificate Authority, that issues code-signing certificates to companies present globally. And one of its best-in-class solutions is the EV Code Signing Certificate, which removes all types of warnings across operating systems.
In addition, DigiCert EV Certificate only gets issued to companies, that have an operational and physical existence for a minimum of three years. With such a certificate, software publishers and developers can tamper-proof their software, scripts, applications, and even OS drivers.
Moreover, it provides instant acceleration to the brand's reputation, helping to improve user trust, download, and retention rate.
Furthermore, DigiCert's validation procedure is quite seamless as compared to other CAs and gets completed in minimal time. It doesn't let you wait longer and offers a wider range of resources to prepare documents and participate in the vetting process.
The Benefits of Choosing DigiCert EV Code Signing Certificate
Selecting DigiCert EV Code Signing Certificate comes with numerous advantages, having an overall positive impact, such as:
No SmartScreen Warning
Windows SmartScreen Defender is a built-in filtering mechanism, that doesn't let the system run the executable file from an unauthorized publisher. And it also shows a warning for it to the end-users. But, DigiCert EV Code Signing Certificate eliminates its occurrence and provides a warning-free experience to all your customers.
Moreover, it offers an instant reputation boost as soon as you sign the software using it. Besides, it also aids in zeroing the possibility of an Unknown Publisher Warning.
Acceptance By Digital Platforms
DigiCert is a reputed Certificate Authority and its details are by-default present in some of the built-in certificate databases. And when you use DigiCert EV Code Signing Certificate, your software gets accepted by every platform and OS. The system doesn't show warnings and executes its installation without any additional error or blocking.
Moreover, you get a green signal to upload your application to online stores, such as Google Play and Apple App Store. As a result, user trust and reach to wider audience increases.
Lifetime Software Validity
With every Extended Validation Code Signing Certificate from DigiCert, you get the functionality to use timestamp. It aids to integrate the digital signing date and time information with the software. And whenever operating systems analyze such details, it allows the software installation, even if its certificate is expired.
Additionally, you can timestamp and sign unlimited executable files, making them valid for a lifetime. Therefore, you avail a high return on investment for an extended period with a DigiCert Extended Validation Code Signing Certificate.
Advanced Encryption & Hashing
Whether you purchase DigiCert EV(Extended Validation) Code Signing Certificate now or in the future, you will always find it using the latest encryption and hashing algorithm. DigiCert doesn't compromise on quality and assures us to provide top-notch security. Thus, your software becomes completely tamper-proof with a such robust solution.
You can digitally sign any executable file with it, including .cab, .exe., .xpi, .dll, .xap, .ps1, Macro Office, Adobe Air, Mozilla Object, Java Applet, Microsoft Authenticode and VBA, and more.
CI/CD Pipeline Integration
DevOps is the current favorite software development approach for faster, stable, and secure software releases. As code signing is an integral operation, DigiCert allows you to embed its EV certificate functionality in the CI/CD pipeline.
It helps you to tamper-proof the source code in the continuous deployment pipeline. And it also makes sure that you don't miss the digital signing procedure, even for a minor update. In addition, it also helps to manage, who and when signed the code, maintaining the chain of custody.
Additional Private Key Protection
DigiCert provides the private key of the EV Certificate in a physical hardware security module (HSM). The HSM is a kind of USB, aligning with FIPS 140 Level 2 standards and specifically designed for storing cryptographic keys. You can store the HSM behind multiple physical locks and prevent attackers from accessing it through network-based attacks.
In addition, HSM limits access to private keys. And it offers the full authority to you, with whom you want to share the private key.
Compliance With Best Practices
By choosing DigiCert EV Code Signing Cert, you automatically comply with industry standards. And also, with the best practice of storing private in a hardware token. DigiCert aligns all its solutions with the CA/B forum, NIST, and ISO standards.
Further, when you sign software with such a certificate, you fulfill the mandatory digital sign requirements of operating systems and online repositories. As an outcome, your application impeccably gets uploaded to the online store of Android, iOS, Windows, and Linux devices.
How DigiCert EV Code Signing Works?
EV Code Signing is a rigorous procedure, which follows the below steps to digitally sign software, applications, drivers, scripts, and other executable files.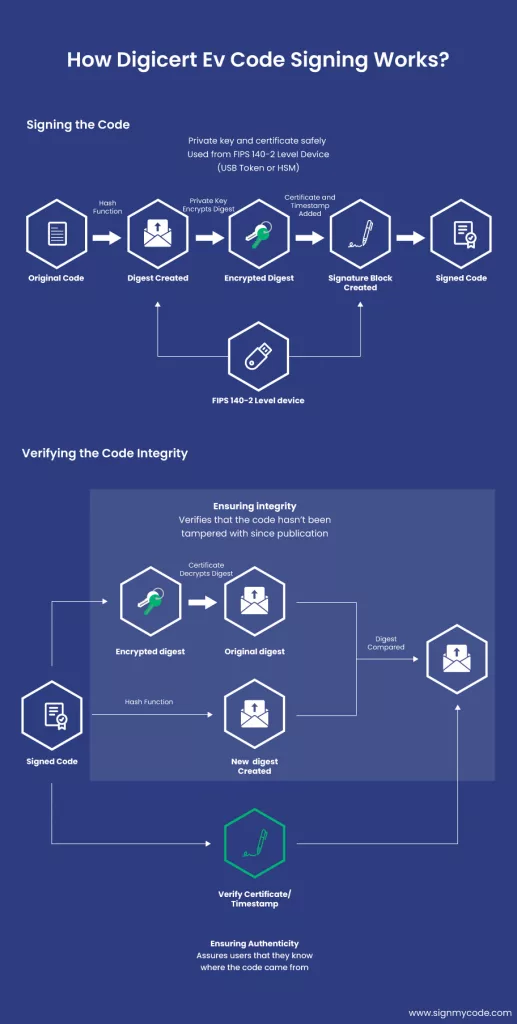 Step 1: Plug the HSM (Hardware Security Module) into the computer system and execute the relevant command.
Step 2: As the command gets executed, the source code of the software is taken as input.
Step 3: The certificate creates the hash digest of the input (source code).
Step 4: Further, the hash digest is taken as input and the system fetches the private key from the hardware token. And the encryption gets performed on the hash digest.
Step 5: The certificate embeds a digital signature with encrypted and hashed source code and provides the secure software file as output.
Furthermore, when a user tries to install your application, the system creates its hash value and cross-verify it with one, created while signing. If both the values match, installation starts. Otherwise, the user sees a warning.
Why Extended Validation is Better Than OV and IV?
Extended Validation Certificate is the most secure as compared to OV and IV, due to the following reasons:
Its private key gets provided in the Hardware Security Module through a secure supply chain.
CA only issues it to organizations, that have a physical address and are active from recent three years.
EV Code Signing Certificate instantly builds the business reputation across all operating systems and digital platforms. For IV and OV, you have to develop them organically.
Windows only allows EV Certificate holders to sign, run and release drivers.
Recommended: OV Vs EV Code Signing Certificate: Which is Best?
The Best EV Code Signing Certificate Provider
Numerous EV Code Signing Certificate providers are present across the internet. But, only a few provide genuine and authentic certificates, directly from Certificate Authorities. And one such provider is SignMyCode.
It's a globally recognized and industry-leading certificate seller, offering Cheapest EV Code Signing Certificates. Moreover, by becoming its customer, you can benefit from the exclusive services, such as:
24/7 Expert Support
Free Guides and Tools Access
30-Day Money Back Guarantee
100% Genuine Solutions
Cheapest Price
Concluding Up
DigiCert EV Code Signing Certificate is a marvelous security solution, that helps software developers/publishers to secure source code. It uses encryption and hashing algorithms to prevent attackers from modifying software content. In addition, the SmartScreen warning gets removed and the business reputation gets increased by availing it.
In addition, the DigiCert Extended Validation Code Signing Certificate is compatible with all executable file formats and even allows to sign of Windows drivers. For seamless signing and secure software, you must choose DigiCert EV Code Signing Certificate.
Get DigiCert EV Code Signing at Lowest Price
Secure your Windows Drivers, Script and Programs for higher level security and MS SmartScreen Reputation Filter Trust with DigiCert EV Code Signing!