What is EV Code Signing Certificate? How Does It Work?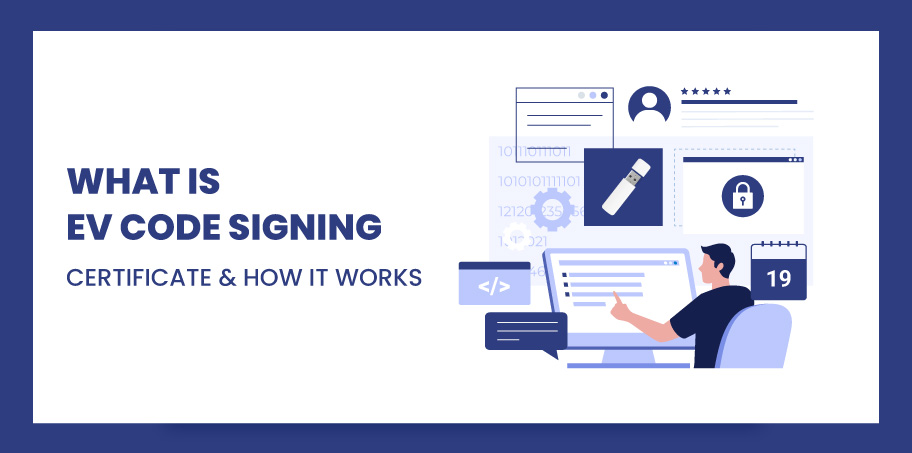 EV Code Signing is an A-grade software security solution that every organization needs. It's one of the most advanced and integrity-assuring mechanisms. With its usage, publishers can digitally sign their software and release them in compliance with digital platforms.
With the increasing reverse engineering and data breaches, it's essential to use an EV Code Signing Certificate. However, the first step is to understand the EV Code Signing Certificate. So, let's get started.
The Fundamentals of EV Code Signing Certificate
Extended Validated Code Signing Certificate comes into focus when organizations need additional software security. EV Certificate is one of the most cutting-edge digital solutions that protect code integrity and boost brand reputation.
EV Code Signing Certificate takes the lead if you compare it with IV and OV certificates. To obtain an EV solution, you must be an organization that has been actively operating for the last three years. Otherwise, Certificate Authority will not consider you to participate in its vetting process. Furthermore, the primary reason behind its top position is its compatibility with Windows Defender SmartScreen Reputation Filter.
When you secure your software with an EV Code Signing Certificate, it aligns with all crucial standards. And when the end-user tries to install the application, the system finds it coming from authorized publishers and runs it seamlessly. Moreover, during the validation procedure, CA verifies every minor detail by going in-depth, contributing to EV certificate holders' legitimacy.
Furthermore, another reason for its high preference is its private key storage.
When any Certificate Authority issues an EV Code Signing Certificate, it sends the private key in a hardware token. Due to it, unauthorized access over private key gets prevented, and firms receive an additional security layer by default.
How Does EV Code Signing Certificate Work?
Working of an EV Code Signing Certificate is quite similar to the functioning of IV and OV Code Signing Certificates. However, the private key in the hardware token makes the primary difference. You must insert the token into the system to initiate the EV Code Signing procedure. Without a USB token, it's impossible to use the EV certificate.
Once the token gets successfully inserted, you must run the commands on the command prompt in Windows and Terminal on mac OSX. On the command execution, source code will be taken as the primary input, on which the certificate will perform hashing. As a result, a hash value/digest will get generated.
Further, the certificate will start performing encryption on the hash digest. The system will fetch the private key details from the hardware token during the encryption procedure. And once the encryption gets completed, your software will have an additional block containing digital signature and timestamp details. Now, you will have a signed executable file/software.
And after the completion of the signing process, you can remove the USB token.
Exclusive Features and Benefits of EV Code Signing Certificate
With the usage of the EV Code Signing Certificate, you get the following leverages:
No Windows Defender SmartScreen Warning
Windows Defender SmartScreen is an in-built filtering mechanism that checks every executable and shows alerts for unauthorized ones. By using the EV Code Signing Certificate, you instantly become an authorized publisher. Therefore, your users never encounter SmartScreen and traditional Unknown Publisher Warning.
Further, such functionality is only with an EV certificate, as there's always a probability of facing a warning while using IV and OV solutions.
Automatic Fulfillment of Best Security Approach
Storing a private key in a hardware component, aligning with FIPS-140 standards, is the most recommended security approach. And when a Certificate Authority issues you the EV certificate, you receive it privately in a hardware security component.
CA ensures that the token aligns with FIPS-140 standards and is only accessible by authorized resources.
Access to Only Authorized People
Due to hardware tokens, you can store private key offline. In addition, you can keep the token behind physical locks with advanced mechanisms, such as an iris and fingerprint scanner. It will allow only authorized people to access the key and sign software.
As a result, malicious actors will be prevented from releasing software in your organization's name.
Extends Software Validity
While signing the executable file, you can also integrate a timestamp. It will maintain the software's validity and authenticity during and after the certificate expiration. Hence, systems will always recognize your software as legit, and n end-user will ever face a Defender SmartScreen warning.
Prevents Unauthorized Tampering
As the EV private key is only accessible by a limited number of people, it leads to a lower unauthorized alteration probability. Storing the key in offline mode disables cyber-attackers to perform breaching and conduct any malicious activity. Thus, EV Code Signing Certificate makes the overall source code tamper-proof.
Why do Professionals consider Comodo EV Code Signing Certificate?
Always consult with an expert when you have to buy EV Code Signing Certificate. Otherwise, you can purchase the Comodo EV Code Signing Certificate to save cost and time. It's perfect for every organization, as it offers the features, functionalities, and benefits below.
Comodo EV Certificates are available at lower prices.
You can effortlessly find its authorized distributor, such as SignMyCode.
It aligns with all the standards and policies of the CA/B Forum and passes Defender SmartScreen filter checks.
It is compatible with all the significant platforms and file types.
You can sign unlimited executable files using single Comodo EV Code Signing Certificates.
Comodo sends the private key in an external USB drive, supporting you in maintaining code integrity.
You can cancel your Comodo order and get your full money back within 30 days of purchase.
The Process To Avail Sectigo EV Code Signing Certificate (Formerly Comodo)
To avail of the Sectigo EV Code Signing Certificate, you have to complete the vetting process defined by the CA. And the primary documents and requirements which you need to fulfill include the following:
You must be an organization registered with the government
You must be present physically and have a full-fledged address
You must be operational from recent three years
You must have a working telephone number
In addition, you have to provide relevant documents to the Certificate Authority to prove that you fulfill all the requirements. Below listed are the list of documents you need to create.
Government Registration
Address Proof (Operational License or document mentioned by CA)
Telephone Number
Furthermore, if you don't want to submit different documents as mentioned above, you can also submit the following:
Dun & Bradstreet Report
Legal Opinion Letter or Professional Opinion Letter
After your document submission, CA will verify them using the government databases. And as a final step, you will receive a verification call to confirm order details. After CA gets satisfied, it will issue you an EV Code Signing Certificate.
Concluding Up
EV Code Signing Certificate is the most solid among all three software publisher certificates. It differentiates itself from others by providing additional security through a hardware token containing its private key. In addition, it's the only Code Signing Certificate that ensures bypassing of Windows Defender SmartScreen and all other warnings.
Furthermore, the vetting process for EV Code Signing Certificate is more rigorous than IV and OV. Any minor record mistake can lead an organization to start from the beginning. Therefore, if you want to strengthen your software security, an EV Code Signing Certificate from a reliable CA, such as Comodo, is the answer.